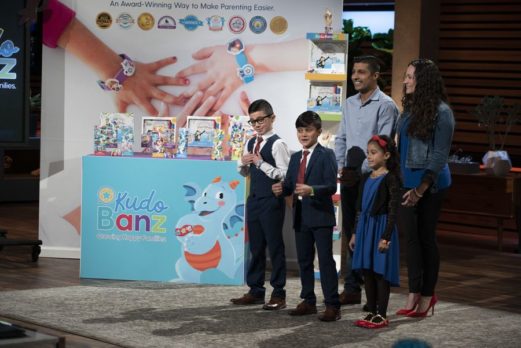 Hazma and Amanda Naqvi seek the Shark's approval for KudoBanz, their "positive parenting" tool, in Shark Tank episode 1013. It's like a sticker chart that a kid wears on their wrist. Sticker charts are a popular way of demonstrating positive reinforcement, the Naqvis put the chart where you can see it all the time.
The starter kit comes with a book which introduces the child to the Kudo Banz way. It's a wristband that has little charms (or kudos) that attach to it when a child is well-behaved or accomplishes a goal. You can scan the kudos with the accompanying app to animate them. There's lots of psychological research on the benefits of positive reinforcement:
"Feedback and attention should stay focused on good behavior to encourage and motivate that behavior to be repeated. Furthermore, positive reinforcement builds kids' confidence and creates more trust, leading to more willingness to demonstrate that behavior. Negativity does the opposite."
Amanda created KudoBanz as a way to get one of her children to listen better. She claims the product not only helped her child, but made her a better parent, too. By using positive reinforcement instead of yelling and "time outs," she ended up creating a family environment "beneficial to all." She hopes she can positively impact the Sharks and get an investment.
KudoBanz Company Information
Video

Posts about KudoBanz on Shark Tank Blog
Kudo Banz for Positive Parenting
KudoBanz Shark Tank Recap
Amanda and Hamza and their children Mik'al, Ayaan, and Sofia enter seeking $150,000 for ten percent of Kudo Banz. As they explain the product, they reveal they've done $80,000 in sales since launching in the summer of 2017. Each starter pack costs just $.98 to make and sells for $29.99. They are currently in negotiations with Buy Buy Baby.
As the pitch goes on, the kids take over. At one point, Mik'al starts answering all the Sharks' questions; he even lambasts Mr. Wonderful for questioning the valuation. The Sharks like the family, but not the sales numbers. Matt thinks there are too many similar products and goes out. Lori says she has a book in development that competes with the product and goes out. Daymond thinks kids will lose interest and he goes out too. Mr. Wonderful critiques the valuation again and goes out too. Mark is the last Shark to go out, citing poor sales as his reason.
KudoBanz Shark Tank Update
The Shark Tank Blog constantly provides updates and follow-ups about entrepreneurs who have appeared on the Shark Tank TV show. As of June, 2019, Kudo Banz is not in Buy Buy Baby stores. They continue to sell on their website and in their Amazon store. Even though they didn't get a deal, Amanda says Shark Tank helped her and her kids gain confidence.
In August, 2020 the boys, Mik'al and Ayaan appeared on QVC with their new invention, Ornament Anchor. It's a no-slip way to hang ornaments. They got the idea for the product when one of their favorite ornaments fell of their Christmas tree. We may see these two again on Shark Tank – they've sold over 500,000 units as of June 2021! KudoBanz revenue is $1 million annually.
***SPOILER***
The kids will appear in episode 1308, the 2021 Holiday Special with their new product, Ornament Anchor.
They didn't get a deal for Ornament Anchor either. An August, 2023, check in reveals the company is out of business. Ornament Anchor is still open.