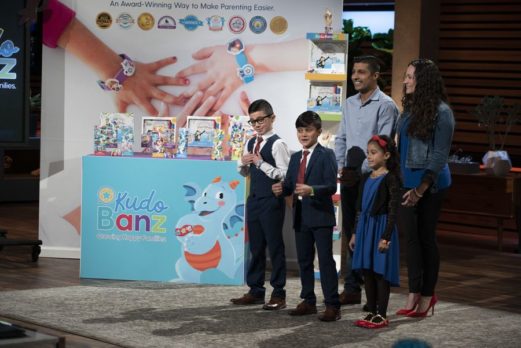 Hazma and Amanda Naqvi seek the Shark's approval for KudoBanz, their "positive parenting" tool, in Shark Tank episode 1013. It's like a sticker chart that a kid wears on their wrist. Sticker charts are a popular way of demonstrating positive reinforcement, the Naqvis put the chart where you can see it all the time.
The starter kit comes with a book which introduces the child to the KudoBanz way. It's a wristband that has little charms (or kudos) that attach to it when a child is well-behaved or accomplishes a goal. You can scan the kudos with the accompanying app to animate them. There's lots of psychological research on the benefits of positive reinforcement:
"Feedback and attention should stay focused on good behavior to encourage and motivate that behavior to be repeated. Furthermore, positive reinforcement builds kids' confidence and creates more trust, leading to more willingness to demonstrate that behavior. Negativity does the opposite."
Amanda created KudoBanz as a way to get one of her children to listen better. She claims the product not only helped her child, but made her a better parent, too. By using positive reinforcement instead of yelling and "time outs," she ended up creating a family environment "beneficial to all." She hopes she can positively impact the Sharks and get an investment.
KudoBanz Company Information
Video

Posts about KudoBanz on Shark Tank Blog
Kudo Banz for Positive Parenting
KudoBanz Shark Tank Recap
Marilyn and Sara will pitch the panel of five Sharks on the business and its prospects for growth. They'll need to convince Mark Cuban, Kevin O'Leary, Lori Greiner, Daymond John and guest Shark Matt Higgins that the company is worthy of a Shark investment. A good business plan, good financials, and sales data will impress the Sharks, but they'll need to show them THEY are capable of running the company to "Shark standards." A full pitch re-cap on KudoBanz will be available on Shark Tank Blog once this episode airs.
KudoBanz Shark Tank Update
The Shark Tank Blog constantly provides updates and follow-ups about entrepreneurs who have appeared on the Shark Tank TV show. Once an episode has aired, we monitor the progress of the businesses featured, whether they receive funding or not and report on their progress. The Shark Tank Blog will follow-up on KudoBanz & Marilyn and Sara Polon as more details become available.