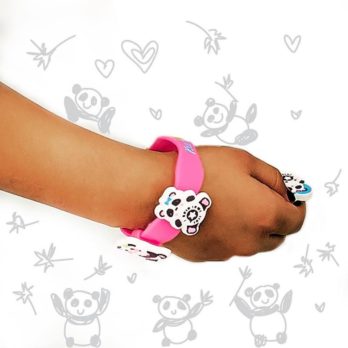 Amanda Naqvi created Kudo Banz to help herself parent her own kids in a more positive way. There's a ton of research that says positive reinforcement makes for more well-behaved kids, so she set out to become a more positive parent. Anyone with kids knows about sticker charts; they're a way to visibly reward a child for doing the right thing. Sticker boards are a pillar of positive parenting.
Kudo Banz takes the concept of a sticker board an puts it right on a child's wrist so the kid is constantly reminded about how well they're behaving. Each KudoBanz starter kit comes with a storybook that explains how they work. There are 2 bands, 4 charms or "kudos," two "magic kudos" and a carrying pouch. There's even an app that has a virtual "reward wheel." Parents hand out the kudos to kids as a way to get them to accomplish goals.
Parents use Kudo Banz for helping with potty training, getting to bed on time, or merely acting appropriately. Their video claims Kudo Banz will make parenting a lot easier. Positive reinforcement builds confidence and trust in kids which generally makes for a better parent/child relationship. Most people respond better to praise and encouragement than to yelling and degradation, kids are no different.
Amanda, along with her husband and three kids pitch Kudo Banz to the Sharks in episode 1013. We'll see how positively they view this product.
My Take on Kudo Banz
As a father of five, I'd like to say I parent positively most of the time. I often used encouragement versus punishment. When the kids were potty training, we'd give them a sticker and a piece of candy for a successful trip to the bathroom. As they grew up, things like good grades earned a trip to the ice cream parlor or some other such reward. Praise was handed out freely – when deserved. That said, there were also a fair share of what I call "the well placed nutty."
I don't know if I would have purchased Kudo Banz when the kids were little or not. I like the concept and it can probably help parents get their kids to focus on tasks better, but we made it through OK without this product. Kudo Banz was voted "Toy of the Year," so there must be something to them. Any tool is worth a shot and I imagine parents of little ones will respond well to Kudo Banz.
Will Sharks Give Kudos and Invest?
Based on the preview video for this episode, it looks like the Naqvis come in a bit high on their valuation. In the PR release for this episode it says "the kids take over the pitch." Coming in with a bad valuation doesn't necessarily mean there's no deal – the Sharks negotiate, but it can kill a deal if it's too out of whack. Also in the preview, it appears one of the kids is arguing about their valuation.
Often times, ABC will make it look like someone's pitch is in trouble in the promo to create some drama. I thinks that's what's going on here. The Kudo Banz website is touting the Shark Tank appearance as is their social media. A recent Facebook post announces they began their Shark Tank "journey" a year ago. Companies that don't do an on air deal don't often make as big a deal as the Naqvis are doing which makes me think they get a deal.