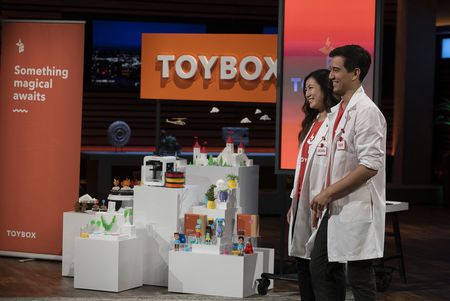 Toy Box Labs introduces a toy that makes toys in Shark Tank episode 1015 when Jen Chin and Ben Baltes demonstrate their 3D printer made especially for kids. With the Toy Box 3D printer and their online platform, you can choose from over 500 (and growing) small toys a kid can print in a short time. Kids can even scan a photo or drawing and the printer will make that, too.
Baltes realizes that kids are exposed to a lot of technology and he wanted to create something that could teach while it entertained. In Japan, kids learn to use 3D printers in elementary school. While some schools offer STEM curriculum that includes 3D printers, they are few and far between.
The ToyBox printer is kid friendly. Its metal enclosure insures kids won't get burned while it's printing. The "ink," or printer food is non-toxic, biodegradable, PLA plastic made with corn oil. They funded the company on IndieGoGo to the tune of $155,605 back in September, 2017. They also got a grant from the National Science Foundation and several VC investments.
Toy Box Labs' end game is more than toys. They want to be THE home 3D printer company. To do that requires a LOT of cash. Any or all the Sharks can help with that!
My Take on Toy Box Labs
I've seen 3D printers in action and they are very cool. If I were a kid, I'd want one of these. They only cost $300 – you can spend that much on a crappy toy in a heartbeat; ToyBox makes toys! I am a firm believer in STEM education, so this is something I'd get for a kid in my life.
I am intrigued by Baltes' vision on becoming a home 3D printer company. I'm not sure where I personally would use a 3D printer in my home, but maybe I don't know what I don't know. I've heard about 3D printers that print food, but I can't conceive any other uses. Baltes knows more about the business than me, so I'll trust his vision. I'm in.
Will Sharks Want to Play?
I think this company will draw some interest from the Sharks. Mr. Wonderful will want to license it to a toy maker, but that conflicts with the company vision. They want to use toys as an entry to home 3D printers when the technology makes it feasible. The Sharks might know that toy maker Mattel is developing their own 3D toy printer – it's due out in 2020.
This business is about more than just printing toys. If they can convey that message, they'll get interest from both Mark and Jamie. Other Sharks might bid, but one of these two does a deal. Jamie would be the perfect investor as he is familiar with the home technology market.