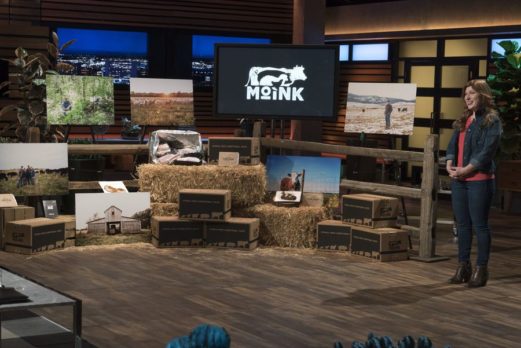 Lucinda Cramsey tells the Sharks about Moink Meats, sourced from small family farms in episode 1015. The chicken, pork, beef and fish she sells are all ethically sourced and humanely raised. Big factory farms generally have poor conditions and the animals aren't treated well. Moink meats come from free range, pastured animals.
She and her husband recently moved back to the mid west and bought a farm. When they started talking to other small, family farmers, they realized they needed a way to get food from small farms to consumers. They recruited other like-minded farmers and Moink was the solution.
Moink meats come on a subscription basis. Boxes of beef ship every 3, 4, or 6 weeks. They have an all beef option and options with combinations of beef, pork, chicken or fish. Each box is $159 and you can add additional items to any order. The meats are pricey – about $10-$15 a pound, but that's because they come from family farms and not big, mass production factory farms.
My Take on Moink Meats
I am a meat guy. I have no problem spending a few bucks more for a quality product. My brother used to have a wild bison company. That stuff was tasty! Every once in a while, a buddy of mine and I buy a whole cow and have it butchered. These come from a small family farm a few counties over from us. It's pricey, but it's good stuff.
Moink wants to do what that farm is doing on a large-scale. By ordering several weeks in advance of delivery, it allows them to properly source everything. I like the idea and the look of the meat, so I ordered a combo box and got a free salmon filet as a gift with my first order! It ships in two weeks, so I'll do a review. As you can probably guess, I'm in!
Do Sharks want to Moink?
I'm not sure the Sharks will bite on this one. Mark Cuban already has an interest in Echo Valley Meats, so he'll be out quickly. Mr. Wonderful's interest in Plated may preclude him too. That leaves Daymond, Lori and Jamie. If any of these Sharks get involved, I think it will be Jamie. Lori doesn't usually go for food items, though she has in the past.  Daymond hasn't jumped at these kinds of businesses either. Since Jamie is still a bit of an unknown, I think if any Shark bids, it will be him.