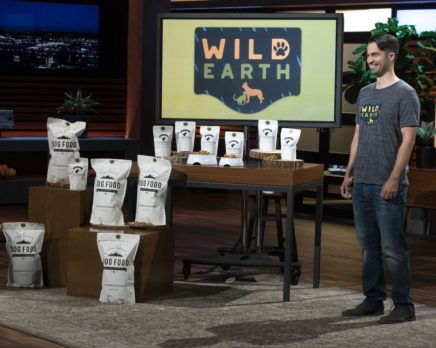 Ryan Bethencourt seeks an investment in Wild Earth, his biotech company that makes vegan pet food, in Shark Tank episode 1013. Bethencourt is both a vegan and a dog lover. One day, he decided he couldn't reconcile feeding "dead animals" to his pets. He decided to use the knowledge gained from working with biotech start-ups to create "clean protein" pets food.
The dog food is made from koji, a fungus grown on grains, primarily in Asia, to make fermented foods. He puts the koji in a bioreactor and "feeds" it beet sugar which it turns into protein. According to Bethencourt, it tastes like a Cheese-It. This is used to make a koji based dog kibble. Wild Earth wants to feed cats, too. He's making lab-grown mouse meat for cats. While this has angered some in the vegan community, cats need taurine to survive and it's only found in meat.
Wild Earth has the attention of some big players in the pet trade. Mars Petcare which makes Pedigree, Whiskas and other pet food brands, chose Wild Earth as the first company for a pet related start-up accelerator project. Both Bethencourt and the folks at Mars see the benefit of vegan pet food. It will apply to the vegan niche market, but it's also far less expensive to produce. It can be priced lower than the cheapest dog food, but it's still better food.
Bethencourt probably wants a Shark to help him scale up production. Even with Mars Petcare on board, a Shark can accelerate growth even faster.
Wild Earth Company Information
Video

Posts about Wild Earth on Shark Tank Blog
Wild Earth Shark Tank Recap
Ryan enters seeking $550,000 for 5% of his business. He has no numbers for the Sharks because he hasn't started selling product yet – it's a true start-up. A pack of treats cost $3.50 to make and sells for $12.99. The Sharks like Ryan, but they don't like the $11 million valuation. Ryan attributes it to the extensive R&D.
Ryan explains the process of making the koji-based protein. The Sharks don't like the fact there are no sales and that Ryan only owns 20% of the company due to all the venture capital funding he's received. Kevin goes out because of the lack of sales and Lori quickly follows. Matt thinks the valuation is "inflated, he goes out too. Daymond is in the pet food space, so he goes out while cautioning Ryan to "never mention that valuation in public again."
Mark is the last Shark left but he's not afraid of the valuation. He asks Ryan to tell him how he'll scale the business. Ryan explains he's going to offer the treats plus a premium kibble at $40 a bag. His explanation wins Mark over and he offers Ryan $550,000 for 10%. Ryan tries to haggle, but Mark stays firm at 10%. Ryan eventually accepts, saying he'll take it out of his own equity if he has to.
Wild Earth Shark Tank Update
The Shark Tank Blog constantly provides updates and follow-ups about entrepreneurs who have appeared on the Shark Tank TV show. As of June, 2019, the kibble is still unavailable. The treats are available on Amazon. They have scrapped the cat food idea for now and are focusing on the dog food.
The deal with Mark did close, but not with Mark Cuban companies. Instead, in May of 2019, Mark's venture capital firm, Radical investments, joined with venture firms VegInvest, Felicis Ventures, Peter Thiel's Founders Fund, Mars Petcare, Bits x Bites, VECTR, and P.O.V. to fund Wild Earth with $11 million in venture funding. That brings the company's total venture debt to $16 million!
In September, 2021, he company moved from California to Durham, NC due to the covid-19 pandemic restrictions and a lower cost of doing business. As of June, 2021, the kibble is now available on Amazon. In November, 2021, the company announced it raised another $23 million and plans to introduce koji based dog treats in 2022. The treats got regulatory approval and come in three flavors: Strawberry and Beet, Peanut Butter and Banana and Cinnamon. Industry experts say the vegan pet food market will be worth $10,839,650 by 2028. In March, 2023, the company officially launched its dog food and sought retail partners. The food and treats are currently available at many independent pet stores and national chains should be stocking the product by the end of 2023.
As of August, 2023, annual revenues are $21 million.
***editor's note: I got this for my dog a few times and she gobbled it up. She still like her beef bones too.