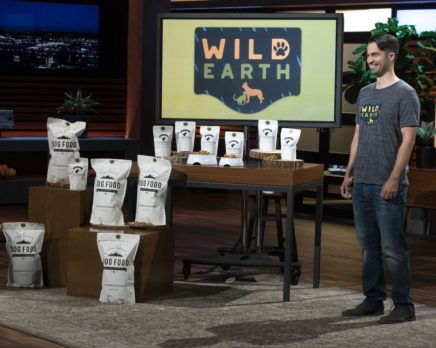 Ryan Bethencourt seeks an investment in Wild Earth, his biotech company that makes vegan pet food, in Shark Tank episode 1013. Bethencourt is both a vegan and a dog lover. One day, he decided he couldn't reconcile feeding "dead animals" to his pets. He decided to use the knowledge gained from working with biotech start-ups to create "clean protein" pets food.
The dog food is made from koji, a fungus grown on grains, primarily in Asia, to make fermented foods. He puts the koji in a bioreactor and "feeds" it beet sugar which it turns into protein. According to Bethencourt, it tastes like a Cheese-It. This is used to make a koji based dog kibble. Wild Earth wants to feed cats, too. He's making lab-grown mouse meat for cats. While this has angered some in the vegan community, cats need taurine to survive and it's only found in meat.
Wild Earth has the attention of some big players in the pet trade. Mars Petcare which makes Pedigree, Whiskas and other pet food brands, chose Wild Earth as the first company for a pet related start-up accelerator project. Both Bethencourt and the folks at Mars see the benefit of vegan pet food. It will apply to the vegan niche market, but it's also far less expensive to produce. It can be priced lower than the cheapest dog food, but it's still better food.
Bethencourt probably wants a Shark to help him scale up production. Even with Mars Petcare on board, a Shark can accelerate growth even faster.
Wild Earth Company Information
Video

Posts about Wild Earth on Shark Tank Blog
Wild Earth Shark Tank Recap
Guy will pitch the panel of five Sharks on the business and its prospects for growth. He'll need to convince Mark Cuban, Kevin O'Leary, Lori Greiner, Daymond John and guest Shark Matt Higgins that the company is worthy of a Shark investment. A good business plan, good financials, and sales data will impress the Sharks, but he'll need to show them HE is capable of running the company to "Shark standards." A full pitch re-cap on Wild Earth will be available on Shark Tank Blog once this episode airs.
Beyond Sushi Shark Tank Update
The Shark Tank Blog constantly provides updates and follow-ups about entrepreneurs who have appeared on the Shark Tank TV show. Once an episode has aired, we monitor the progress of the businesses featured, whether they receive funding or not and report on their progress. The Shark Tank Blog will follow-up on Wild Earth & Guy Vaknin as more details become available.