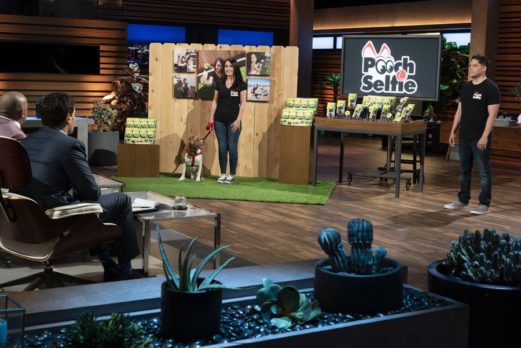 Jason Hernandez hopes the Sharks can picture a deal for Pooch Selfie, a smart phone attachment that helps a dog look at the camera when taking a photo, in Shark tank episode 1013. The Pooch Selfie is a clip that attaches to your phone and holds a squeaky ball in a bracket on top of the phone. This gets the dog's attention and makes it look at the camera lens, which makes for a much better selfie.
Hernandez loves his dogs and always wants to take selfies with them. Dogs are not the most cooperative animals when it comes to sitting still for a picture, hence his invention. Back in 2015, he raised $39,897 on Kickstarter to get production rolling.

Since the Kickstarter, Hernandez produced a professional commercial and the product is widely available in stores like Bed Bath and Beyond, Target and Amazon. They're probably on Shark Tank to get a charge out of sales. The question is, will the offer be good enough for a Shark?
Pooch Selfie Company Information
Video

Posts about Pooch Selfie on Shark Tank Blog
Pooch-Selfie for Smart Phone Camera
Pooch Selfie Shark Tank Recap
A very nervous Jason enters seeking $100,000 for 20% of PoochSelfie. He's so nervous, the Sharks tell him to take a deep breath and relax. Once composed, Jason describes the product and hands out samples. Each unit costs just $1.30 to make and sells for $9.99. To date, he's done $380,000 in sales.
Jason invested $18,000 of his own money in the PoochSelfie and has zero debt. He designed everything – product, packaging etc – himself. He even went over to China to work with the manufacturer on the molds. Unfortunately, he got ripped off. He had the product in Bed, Bath and Beyond, but had to go to markdown because it wasn't selling. This has left him with $100,000 in inventory.
Daymond gets emotional and reveals he just lost his dog, Spartan, and he never got a good picture of him. He offers Jason the $100,000 for 33.3%. The other Sharks drop out one by one as they know Daymond would be a good partner for Jason who accepts the deal.
Pooch Selfie Shark Tank Update
The Shark Tank Blog constantly provides updates and follow-ups about entrepreneurs who have appeared on the Shark Tank TV show. There isn't any information as to whether this deal closed or not as of June, 2021. PoochSelfie is EVERYWHERE now: Chewy, Amazon, Bed Bath and Beyond, The Grommet and many more. Apparently, Jason continued to have problems with knock-off products on Amazon and other outlets.
Sometime in early 2022, Jason lists on his LinkedIn page that he is no longer with the company. As of August, 2023, the website is still active and you can order products, but Amazon lists the product as "currently unavailable." Jason lists his current employment as Key Account Manager for a company called Carbon SCM.