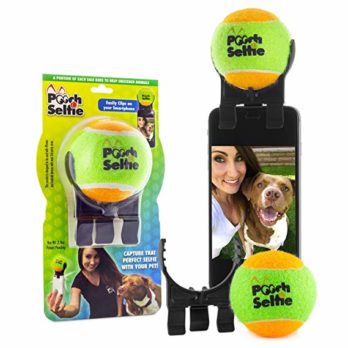 Jason Hernandez invented The Pooch-Selfie so he could take better selfies with his dog. Dogs are wonderful creatures, but they don't always sit still for a photo-op. They tend to get distracted by just about anything. Pooch Selfie solves the problem by becoming the distraction.
Basically, it's a clamp for your cell phone that holds a squeaky tennis ball. Squeak the ball, hold up your phone and your best friend will look straight at the ball – and the camera lens. The result is much better photos of your pooch.
Hernandez started Pooch-Selfie in 2015 with a Kickstarter that raised nearly $40,000. Since then, the product has been widely available at some major national retailers and on Amazon. It's strange that he's even in the Tank as he has such wide distribution for the product. Perhaps he needs a Shark's help with manufacturing.
My Take on Pooch-Selfie
I think this is a clever idea. It often use a ball to get my dog to take a good picture, but it's hard to use a ball while taking a selfie. Pooch-Selfie solves the problem easily. At ten bucks, it isn't going to break the bank and I think it makes a great gift for a dog lover.
Yes, it's a bit of a tchotchke, but it's a fun one. It's too bad Robert isn't on the panel tonight as he's the big dog loving Shark. While I probably won't rush out to buy one, I'm sure I'll see some soon at our local dog parks.
Will Sharks Get The Picture?
In the promo video for this episode, Hernandez appears distraught and he's saying something like "I put my heart and soul into this." The promo reeks of desperation, which isn't a good thing in the Shark Tank. There has to be a major skeleton in the closet with this business because he has Pooch-Selfie everywhere: Target, Walmart and more. Whatever ails this company will surface and the Sharks will attack.
I don't think he'll get a deal. Pooch-Selfie is one of those "product not a company" pitches. The fact that Hernandez appears so desperate makes me think he goes home empty-handed.