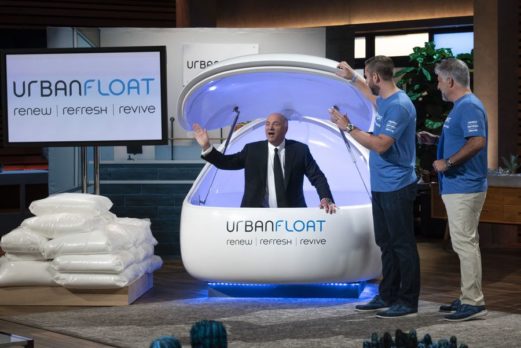 Scott Swerland and Joe Beaudry want to sooth the Sharks with UrbanFloat, their sensory deprivation tank business, in episode 1013. Beaudry started the company in 2012 after trying a sensory deprivation tank to decompress from his high stress corporate job at Verizon Wireless. He sought the help of a friend who introduced him to Mr. Swerland. Swerland owns 90 tanning salons. In 2013, they launched their first "salon" with three pods in it.
Sensory deprivation pods or tanks put you inside a tank with body temperature water loaded with Epsom salts. You float (the salt ensures you will even if you fall asleep) in total darkness and with no sound. It's supposed to be very relaxing. Beaudry was hooked when he first tried it, he even claimed he could see better after the experience.
Last year, Beaudry left Verizon Wireless and went full-time with UrbanFloat. That first salon had its pods filled 22 hours a day. They opened two more locations shortly thereafter and opened their first franchise unit in 2016. UrbanFloat has a deal to open 6 salons in the Houston area this year and has an eye on national expansion. Sales last year were $1.1 million.
Sensory deprivation tanks were big in the late sixties and seventies, but the craze died out. It appears they are catching on again. Many prominent athletes use them, including Olympic gymnast Ali Raisman, Steph Curry of the Golden State Warriors and many members of the Boston Red Sox. Beaudry says the business is growing nationally and he wants to be the tops in the industry. Will a Shark jump in these tanks?
UrbanFloat Company Information
Video

Posts about UrbanFloat on Shark Tank Blog
UrbanFloat Shark Tank Recap
Scott and Joe enter seeking $500,000 for 5% of the business. They explain their numbers and franchise concept to the Sharks. Last year, they did $2.5 million in sales including franchise fees from their four franchisees. They only saw around $600,000 in cash flow. New franchises cost $500,000 to open.
Matt notes that the Miami Dolphins use these tanks to help players recover from injuries. Lori has concerns that the pods aren't proprietary. Mark goes out when he learns they have $1 million in SBA loans; he also doesn't think the trend will last. Lori and Daymond go out right after Mark.
Kevin makes a Sharky offer: $100,000 as an investment and $400,000 as a loan at 9.5% for 36 months for 15% of the business. Matt also makes an offer: $500,000 for 15%. Scott and Joe counter with 7.5% and Lori and Daymond say they're de-valuing Matt's expertise. The guys counter again with 10%, prompting Lori and Daymond to speak out again. Matt agrees to come down to 12.5% and they do the deal.
UrbanFloat Shark Tank Update
The Shark Tank Blog constantly provides updates and follow-ups about entrepreneurs who have appeared on the Shark Tank TV show. After the episode aired, the company realized a 60-70% increase in awareness. They also received many franchise inquiries. They added to their franchise development team. Prior to the show, they had deals in place for thirty additional locations.
During the due diligence with Matt Higgins' team after the show, Scott and Joe decided to walk away from the  deal. They did have a franchise in Texas, but as of 2021 it is gone. There are two additional franchises: one in Ohio and one in Delaware. No doubt the Covid-19 pandemic stalled their plans for franchise growth. Franchisees require $150,000 in liquid capital and a minimum net worth of $300,000. The minimum investment is $452,300.  As of August, 2023, the company is still operating and has five locations – the Ohio location shut down. Annual revenue is $1 million.