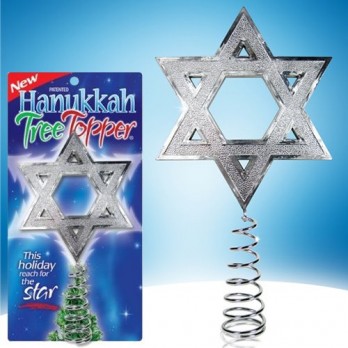 Morri and Marina Chowalki, an interfaith couple pitch the Hanukkah Tree Topper in Shark Tank episode 512. Their goal is to schmooze the Sharks into helping them "bring cultures together during the holidays." There are around 1 million Jewish/Christian families in the USA who celebrate both Christmas and Hanukkah to one degree or another and the Hanukkah Tree Topper brings these families some Mazel Tov to the Merry Christmas tree.
The couple launched their business in 2009 and they've sold "thousands" world-wide since. The product is currently the number one selling tree top ornament on Amazon. Assuming the Sharks go for the whole shmeer, they'll be looking for a "strategic partnership" to get them into the big box stores.
Hanukkah Tree Topper Shark Tank Recap
The segment begins in the Chowalki home where Morri highlights their interfaith family. He's been selling Hanukkah Tree Topper for three years and has two mortgages he's taken out on his home. He needs the Sharks to to keep the business going.
When Morri enters the Tank, he asks for $50,000 for 15% and presents his product as the best new ornament for "Chrishnakkah." He delivers a funny pitch and hands out Tree Toppers to the Sharks. He says he's sold 12,000 units online, 200 Bed Bath and Beyond stores, and in an in flight magazine. Morri has sales of $150K for the last three years, which has the Sharks saying "Oy Vey!"
He needs the money for space, product development. Mr. Wonderful thinks it's too seasonal and it's a one off product. Morri then reveals he has deals to demo the product in a lot of mass retailers, but Mr. Wonderful goes out. Lori agrees with Kevin and goes out too. Mark doesn't think Morri is set up to grow, so he's out, Robert quickly follows.
Daymond brings up his deal with Soundbender and Rabbi Moshe Weiss. He says Christmas and Hanukkah are about faith and offers $50K for 35% of the company. Morri asks a question and Daymond reveals it's a licensing play. Morri appears to waffle for a few seconds and then he accepts Daymond's offer by saying "kiss me!" Daymond dons Morri's blue Santa hat and does a little dance. An emotional Morri calls his family to give them the good news.
Hanukkah Tree Topper  Shark Tank Update
The Shark Tank Blog constantly provides updates and follow-ups about entrepreneurs who have appeared on the Shark Tank TV show. Hanukkah Tree Topper did big holiday sales after appearing on Shark Tank and inventor Morri Chowaiki appears in season six, episode 614 to give his update on this Shark Tank success story.
In the update, Daymond announced Hanukkah Tree Topper did a big licensing deal with Kurtis Adler who handles production and distribution. Daymond and Mori now get a royalty on every product they sell. They also made a donation to Toys for Tots.
In 2016, Daymond hired Morri as Head of Sales and Retail for his Shark Group. As of April, 2023, annual revenue is $2 million.
Posts About Hanukkah Tree Topper on Shark Tank Blog
Company Information
Get a Hanukkah Tree Topper in time for Christmas