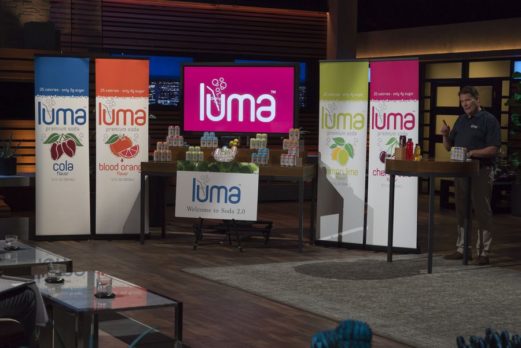 Jim Otteson wants a Shark to invest in Luma Soda, his "healthy" soda company, in Shark Tank episode 1017. Otteson, a trial attorney for 26 years, used to guzzle diet soda when preparing for a trial. When he realized diet sodas were filled with nasty additives and chemicals, he began looking for a healthier, low-calorie soda.
What he found was "craft sodas" with loads of sugar or sparkling beverages. He didn't like either, so he created his own soda: Luma Soda. Jim quit his job as an attorney and began developing a clean, naturally sweetened, low-calorie soda. He sweetens Luma with monk fruit and a touch of honey – there's no caffeine,  stevia or aspartame to be found. There are no artificial colors either. Luma Soda comes in four flavors: Cola, Cherry Cola, Lemon/Lime and Blood Orange. Each can has only 25 guilt-free calories.
Jim cans his soda in the USA under the Agility Beverages moniker. It currently sells online for $19.99 a case and through unnamed "select partners." There's a monthly subscription option as well. There aren't any big name grocery stores stocking Luma Soda yet, but that's probably what he wants a Shark's help with. Will a Shark want a taste of this soda?
Luma Soda Company Information
Video
Posts About Luma Soda on Shark Tank Blog
Luma Soda Shark Tank Recap
Jim enters seeking $500,000 for 20% of his business. He tells his story and hands out samples. The Sharks like some of the flavors, but the reaction is mixed. He says he sank $1.75 million of his own money into the business. Combine that with just $180,000 in sales and a less than ten percent re-order number and the Sharks are concerned.
Jim thinks people aren't reordering because they're conditioned to buying soda in a store. Despite Jim's enthusiasm, the Sharks worry about his $600,000 in inventory and his small ($30,000) bank account. One by one, they drop out leaving Jim holding the can.
Luma Soda Shark Tank Update
The Shark Tank Blog constantly provides updates and follow-ups about entrepreneurs who have appeared on the Shark Tank TV show. As of the July, 2019 rebroadcast of this episode, the company is still in business. The company website needs some work as it was displaying a security certificate error as of the date of this update. Luma did revamp its Amazon Store, but lists all flavors as "currently unavailable." Perhaps Luma is ready to kick the can.
In August, 2020, Jim shuttered the company and went back to practicing law.