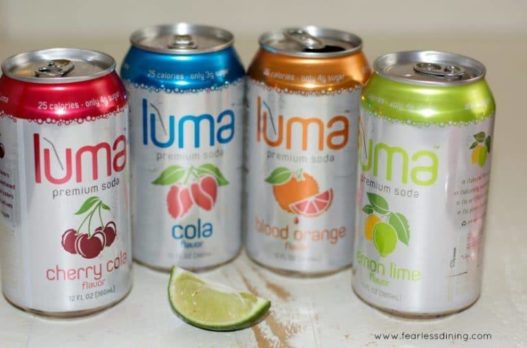 Attorney and Luma Soda creator Jim Otteson is a soda junkie. He was always guzzling diet soda before big trials, but he didn't like all the crap that is in "big soda's" diet drinks. Aspartame, a common sweetener, has been linked to heart disease, diabetes, and stroke. It also disrupts the body's metabolism making your body think it's getting sweets when it isn't. This causes your body to not respond to real sweets and can lead to overeating. There are a whole host of other side effects of aspartame that led Jim to not want to drink soda with aspartame in it. This is why he created Luma.
Jim's such a soda junkie, he quit his job as an attorney to develop Luma. Instead of sugar or aspartame, he sweetens Luma with honey and monk fruit. Luma is caffeine free, too. At just 25 calories a can, it's far fewer calories than the 200 calories most soda cans have. The favors (cola, lemon/lime, blood orange and cherry cola are natural flavors – not chemical mock-ups. The result is a light, fresh soda that is much better for you than what's out there today.
As of today, Luma isn't in stores. You can buy it online for $19.99 a case (less if you opt for the subscription option). Soda needs to be in grocery stores to really sell, and that's why Jim is in the Tank for episode 1017. He wants a Shark to help build his brand and distribute it. Will a Shark want to take on "big soda" with Jim?
My Take on Luma
I don't drink a lot of soda and I NEVER drink diet soda. My beverage of choice is my home-brewed iced tea. I sweeten a gallon of it with one small packet of lemonade mix – about 35 calories for the whole gallon. I drink the stuff all day long. Every once in a great while, I LOVE an ice cold Coke – maybe three or four times a year. It's one of my guilty pleasures.
Luma Soda sounds delicious. I like the idea of a light, fresh, low-calorie soda. The blood orange flavor sounds yummy. If I saw it in a store, I'd pick some up. I wanted to order a case to try it out, but they're currently out of stock. I'm not sure shipping cases of soda is the best distribution plan, so I think he needs it in stores for it to sell. I'd love to try some, so I hope they get more in stock soon.
Will Sharks Drink Up and Invest?
With Rohan Oza as a guest Shark, he seems like the perfect partner. I think the world is ready for something like Luma and Oza is just the Shark to unleash it. What troubles me is they're out of stock. That isn't good when you're going to be on Shark Tank and it doesn't foreshadow a deal, either.
I can't see Barbara investing. In season one, she invested $50,000 for 20% of Chill Soda. She lost her investment and the business never went anywhere. Chill Soda had a similar pitch as Luma: it was billed as a healthier soda. Lori probably won't go for this either. Mark and Kevin aren't likely to be enthusiastic as well. Oza is Jim's only hope, but with no stock three days before the air date, I'm betting this deal fizzes out.