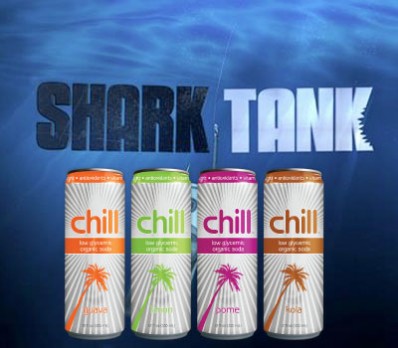 Entrepreneur Dan Mackey, the founder of Chill Soda, enters the Shark Tank in episode 109 in search of cash in exchange for equity in his company. Mr. Mackey was on a personal mission to educate consumers of soda that his new beverage line is a healthier alternative that tastes as great, has half the calories, and is better nutritionally.
When Mackey heard that the public schools in his community were banning sodas and replacing those products with options that were nutritionally about the same, or even worse, as the "unhealthy" beverages, it inspired him to create an alternative: Chill Soda.
Chill Soda Shark Tank Recap
Dan Mackey, a self-described marketing guy who admitted to being a novice entrepreneur, (perhaps not the wisest move on his part) entered the Shark Tank offering a 10% equity position in Chill Soda in return for an investment of $55,000. More than getting the money, Mackey was seeking to network with Sharks, tap into their connections, and be enlightened by their entrepreneurial guidance. It didn't begin well as the Sharks sensed that the owner of Chill Soda was not chilled at all. His nervousness showed, prompting the deal-making super fish to circle and jab at him.
When he was asked about sales, Mackey left the Sharks thinking that he only sold 250 cans, when he meant to say 250,000 cans for $175,000 to a distributor. Daymond John was the most forthcoming, nipping at Mackey's lack of experience in the beverage industry and his presentation skills.  Daymond also was the first to declare himself out.  Kevin Harrington was next, stating that more money would be needed than was available to take Chill Soda to the next level. Robert Herjavec, like Daymond, jabbed at Mackey's professional demeanor, citing his lack of direction and being naïve to the business for outing himself from the deal.
Mr. Wonderful, Kevin O'Leary, swam in the same flow as John, Harrington, and Herjavec. O'Leary was not as biting on the entrepreneur as the others but he did call the beverage business the most brutally competitive industry and predicted Chill would not make it. Barbara Corcoran was the only Shark left.
Barbara shocked the other Sharks when she called Dan a straight shooter, a good guy, and expressed her interest. Despite the acrimonious pleas of O'Leary for Corcoran to back off, the independent thinking business mogul offered Mackey $50,000 for 20% of the company, which he accepted. Corcoran liked the flavor, the nutritional value of the product, and Dan Mackey's spirit.
Chill Soda Shark Tank Update
So, is Chill Soda's bottle half-empty, half-full, or flat either way at this point?
It is difficult to ascertain the current status of the company because there is nothing newsworthy that has been released or reported. On a positive note, Chill Soda does have an informative website that explains the product line's benefits clearly and persuasively.
However, the promising deal with a distributor that Mackey mentioned while in the tank the Sharks apparently is no longer in place. Today, if you want to buy some Chill Soda, you have to send the company an email to obtain details and are placed on an email list. It is the only call-to-action button on the Chill Soda website. Perhaps better days are ahead for the burgeoning beverage firm.
In an interview with Barbara Corcoran, she confirmed that she lost her investment in Chill Soda. She did not elaborate further. The company, as mentioned above, still has a web presence, but is not actively selling the product. For all intents and purposes, the company is out of business. As of July, 2021, the website is still active and it says the soda is "coming soon." Mackey started a private equity firm in 2020.
Posts About Chill Soda on Shark Tank Blog
Company Information