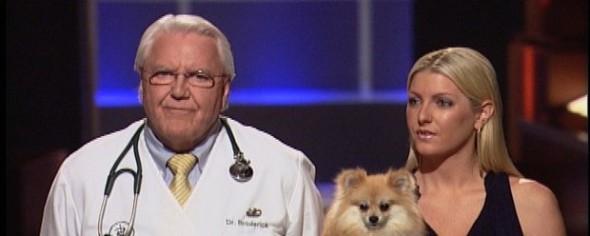 Episode 109 has four new businesses seeking cash from the Sharks. Dan Mackey hopes for some cold hard cash from the Sharks for Chill Soda, his "organic" sodas that also contain vitamins and antioxidants. Dr. Geoffrey Broderick and daughter, Kristina, pitch Cornucopia Express, a line of probiotic dog and cat foods that claim to extend pets' lives. Ray Latypov & Jim Dimascio introduce Virtusphere, a virtual reality interface inside a giant sphere. Gayla Bentley hopes for an investment in her eponymously titled, plus sized, woman's fashion line called Gayla Bentley Fashion.
Find out who sinks or swims in the Shark Tank!
Episode 109 Air Date
First Run –  October 13, 2009
Follow up segments featuring past Shark Tank success stories are a regular feature on Shark Tank.  The episode 109 update segment features Tiffany Krumins, inventor of AVA the Elephant. Tiffany partnered with Barbara in the very first episode of Shark Tank and has gone on to do multi-millions in sales since!
There were 14 Shark Tank Episodes for Season 1. Casting is currently closed, but it never hurts to get a head start on next season! If you would like to appear on the show, check out our Auditions and Casting information.
Episode 109 – The Shark Investors and Entrepreneurs
The Shark Tank Episode 109 entrepreneurs make their best pitch to the panel of five Shark investors who will use their own money if they choose to invest. The Shark Investors negotiate on the spot without any previous information, which differs from typical negotiations between venture capital investors and entrepreneurial start-ups.
Companies pitching the Shark Investors must go through a rigorous due diligence process before an on-air deal is completed. Shark Tank Blog follow ups help you keep track of the companies that end up successful and the ones that don't complete their deal.
Thank you for reading SharkTankBlog, the number one site for Entrepreneurs, Investors and Fans. Our content updates multiple times day, giving you the latest information on Episode 109, Season 1, and all other seasons and episodes.