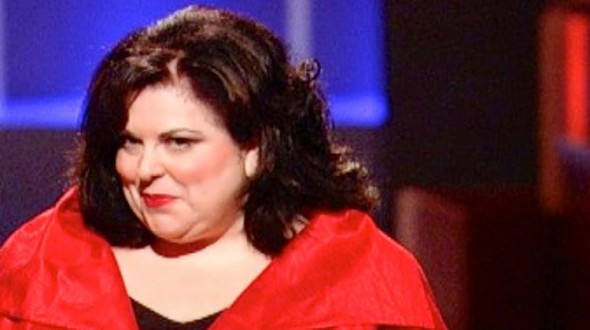 Gayla Bentley brings her Gayla Bentley Fashion line to the Sharks in episode 109, in hopes of reaching an underserved market in the women's fashion industry: sizes 12 to 28. Over 60% of American women wear sizes over 12, but most stores carry sizes from 00 to 12. Larger, "plus" sizes tend to be limited in selection and are often tucked away in small special sections, rather than on the floor with the smaller sizes.
As a fashion designer for twenty-plus years, Bentley is aware of the discriminatory practices of most designers, and believes that more plus-sized women want to purchase high-end fashions. Will the Sharks buy her sales pitch? Or will she have to find other sources to fund her high-end fashion outlet for larger women?
Gayla Bentley Fashion Shark Tank Recap
Bentley walks into the tank looking for $250,000, in return for 20% of her company. She speaks clearly, enunciating, as she describes the plight of the larger woman. For ten years, she's been building the Gayla Bentley Fashion brand, and wants to open a brick-and-mortar store in Houston, where she's already known. Robert Herjavec charms her, asking how she can have been in the business for 30 years when she's clearly 25.
Is There a Market?
Kevin O'Leary questions whether the market doesn't always meet the demand. He's quickly shut down by both Bentley and Herjavec. The other Sharks are more interested in the practicality of the business and the numbers. Daymond John asks about the jacket one of the models is wearing, questioning the cost versus the sales price, and Kevin Harrington asks about Bentley's current presence in retail stores, establishing that her fashions are only available online at this time. Herjavec asks about sales, and Bentley explains that sales are strong, over $500,000 a year. O'Leary questions why stores don't carry the luxury clothing for larger women. Daymond John speaks up in support of Bentley's assertion that stores are not currently serving the market, and explains that fashion is a very discriminatory industry.
Kevin Harrington is on his way out before Barbara Corcoran jumps in, defending the opportunity to tap the market. Robert Herjavec goes out because of his lack of experience in retail fashion. Harrington follows closely, feeling that the market is too niche for his television sales outlets. Corcoran refers to the men's "trophy wives" and tells them they don't know the market. She believes Harrington's television experience would be beneficial to Bentley. With three Sharks out, Corcoran offers half the investment, if Bentley can convince Daymond John to enter the deal for the other half. John offers to enter the deal if the percentage is raised to 50%, contingent upon Bentley gaining a deal. Bentley wants to retain creative control. She offers 45%. John stands firm, and Bentley accepts the deal.
Gayla Bentley Fashion Shark Tank Update
Bentley's vision was to bring her clothing line to the mass market. While the deal went through, John later remarked in an interview that this was one of the "worst investments" he made on the show. "Me and Barbara made the deal, and we haven't seen her since."
It's clear that Bentley's inexperience cost the Sharks a bite of their investment. For a time after the show, her website was "under construction" and her social media was inactive. By 2016, the site was back up and Gayla has her clothing in boutiques and selected Neiman Marcus stores in 23 states, Canada, and the UK. While she didn't give the Sharks the return they hoped for, she appeared to have her business back on track. In August, 2017, she got flooded out by hurricane Harvey. She no longer sells her clothing line. As of July, 2021, she is consulting with Fortune 500 companies on "personal and professional style."
Posts about Gayla Bentley Fashion on Shark Tank Blog
Gayla Bentley Shark Tank Success
Gayla Bentley Fashion Company Information
Video