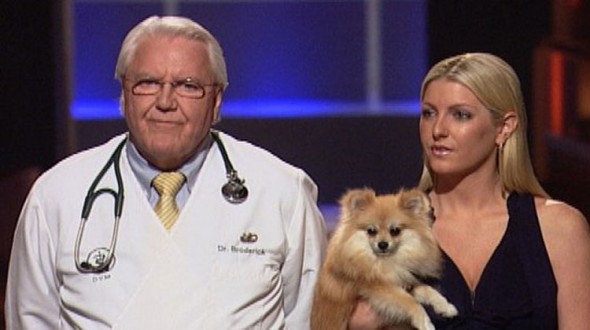 Dr. Geoffrey Broderick brings his Cornucopia Express pet food products to the Shark Tank in episode 109. Broderick, and his daughter, Christina, come to the Sharks looking for an investment that will take the products to a new level of availability. Broderick believes that his pet food supplements will "bring the wild back to the food" and extend the life of pets by preventing most serious diseases.
The supplements are human food-grade, and Broderick adds them to his own diet in a daily smoothie. Will the Sharks take a bite of this vet's holistic vision of pet utopia?
Cornucopia Express Shark Tank Recap
Christina Broderick introduces the products to the Sharks, requesting $300,000 in exchange for a 15% stake in the company. The pair introduce their dog, Casey. Broderick's passion is clear. He tells Kevin O'Leary that if he adds the supplements to his diet, he'll "be around to play with all that money you're making."
Dr. Broderick claims that the supplements will extend the life of pets by 50%. Robert Herjavec is skeptical. He wants a demonstration, and Casey willingly obliges, gobbling a sample of the Cornucopia Express product. Kevin O'Leary goes so far as to taste the supplement.
The Sharks question the scientific validity of the products, asking if there have been studies or clinical trials of the products. Robert Herjavec, in particular, is adamant that the claims are outrageous. He says that over 50% of human beings in America will be diagnosed with cancer at some point in old age, and that if the product can prevent cancer, it should be being produced and marketed to human beings. Broderick responds that the animals are like his "children". Herjavec immediately goes out.
Kevin Harrington explains that, in the world of retail, Broderick will need more than anecdotal evidence to back up his claims. With a lack of a patent, and no scientific studies to prove the validity of his products, Harrington believes Broderick will not be able to sell the Cornucopia Express pet foods. He's out. Daymond John explains that he "can't let the heartstrings" make the decision. Kevin O'Leary follows John, dropping out because of the lack of scientific evidence. None of the Sharks are willing to take a chance on the preventative pet products.
Cornucopia Express Shark Tank Update
In spite of the Shark Tank set back, Dr. Broderick went on marketing his Cornucopia Express pet products through his own practice and online. The products have not gone beyond his niche market, sold through his Huntington, NY veterinary practice. Presumably Casey the dog is still thriving, benefiting from Broderick's preventative formula. As of July, 2021, the company is still in business with annual revenue of $1 million.
Cornucopia Express Company Information