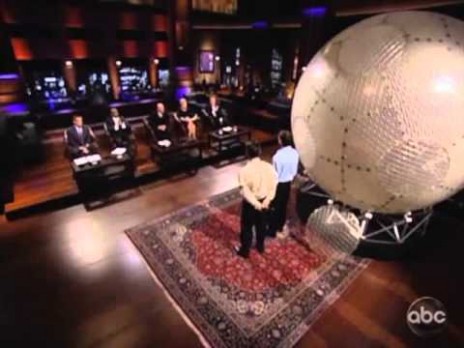 Ray Latypov and Jim Dimascio, the founders of Virtusphere, entered the Shark Tank in episode 109 to present their innovative, virtual reality product. The tech world calls this otherworldly super-sized plastic sphere a "virtual hamster ball." It is designed to simulate reality for the user that steps inside it and plays. However, the simulations of real-world circumstances are not just for play.
The Virtusphere is a high-tech gadget that could be used to train the military or police personnel on high-risk, perilous situations in a safe and controlled environment. It also has the capability of virtually placing players directly inside of their favorite video games. Once a user is comfortable being inside that sphere, it is possible to move about freely, meaning that an individual can run, jump, move from side to side and, virtually, act like it is a real-world scenario. A user steps into it, puts on a headset, and is immersed into a simulated world. It is designed to be for only one person to be in it.
Along with the military, the police, and the private security field, Latypov and Dimascio envision Virtusphere fitting well into the leisure and fitness industries as well. It could be a featured attraction at amusement parks as well as a specialized fitness machine.
It is not exactly a consumer product made for mass merchandising, selling at about $50,000. Along with a hefty price tag, its size also makes it a hard sell. The sphere has a diameter of 10 feet and a 100-square-foot interior.
Virtusphere Shark Tank Recap
The forward-thinking entrepreneurs, Latypov and Dimascio, dove into the Shark Tank with their eyes wide open, seeking an investment of $1.5 million in exchange for 10% of their company. They wanted the money to aggressively pursue 59 U.S. military bases. They also felt their product could be a marketing tool for recruiting. However, the Sharks saw things differently. They were virtually worlds apart from Latypov and Dimascio.
Kevin O'Leary's curiosity was piqued as he asked if he could try it. While he was intrigued and entertained by the Virtusphere, saying that it was "absolutely incredible," he also was the first Shark to declare himself out.
None of the Sharks saw the reality simulator selling well to the general public in the real world. It was too expensive and too large. Before Kevin Harrington bailed out, he added that there also could be liability issues with the Virtusphere. Barbara Corcoran said thought it was a boy toy and that she could not relate with it. It was "too rich" for her so she exited too.
Daymond John kept it simple, stating that he lacked the expertise and contacts to make this work before excusing himself. Robert Herjavec, perhaps, had the best understanding of it. However, he, too, ultimately just said no, leaving the visionary entrepreneurs to take home their "virtual hamster ball" without any money from the Sharks?  It was an uphill battle from the get-go for Virtusphere.
Virtusphere: Shark Tank Update
 On the company's website, there are a dozen customers that have purchased the virtual reality simulator. A military base, a U.S. Army medical center, a naval research base, and several universities are among its buyers. There are owners outside the U.S. in Germany, Russia, Switzerland, and the UK.
In August 2013, the company launched a 40-day campaign on Kickstarter, attempting raise $100,000 for a virtual reality headset called 360specs. The funding failed as it raised less than 4% of its goal.
So, the company's search for a market continues. Being daringly innovative does not always pay when jumping into the Shark Tank. Maybe it was just the wrong season to appear on the show. Would Mark Cuban have invested in Virtusphere?
As of July, 2021, the company is still in business with annual revenue of $3 million.
Posts about Virtusphere on Shark Tank Blog
Virtusphere offers a new Gaming Experience
Virtusphere Company Information