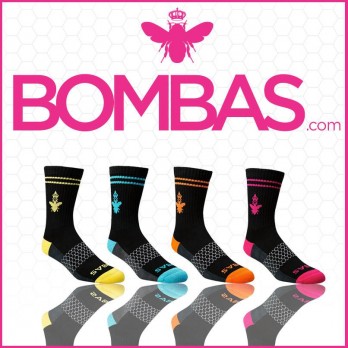 Randy Goldberg and David Heath hope to fond a fit with a Shark for Bombas, their sock company with a social conscience, in episode 601. The Genesis of Bombas was when the two men heard a Salvation Army Major say "socks are the #1 most requested clothing item in homeless shelters." They thought they could make a better sock and donate a pair of socks for each pair sold. Even the business name – Bombas is Latin for "bee" – has socially aware connotations: "bees work together to make the hive a better place."
As for the socks, they are colorful athletic socks with some nifty design features like a honeycomb support system, Y stitching in the ankles, blister tabs on the heel, seamless toes, reinforced foot beds, and "stay up" technology. These aren't your grandpa's old, black socks!
Randy and David funded their business through a successful Indiegogo campaign. They raised over $140,ooo on a $15,000 ask and hit the ground running. Their message and their comfy socks apparently got the attention of the crowdfunding universe. Their mantra, "bee better," applies to their charitable mission as well as the athlete in all of us that wears their socks.
Bombas is selling online only now, they're probably looking for a Shark to help them get onto shelves. Will Bombas be a good fit for one of the Sharks?
Bombas Shark Tank Recap

Randy and David come in looking for $200K for 5% of Bombas. They explain the special design of their socks and their charitable mission. They hand out socks to try on. As the Sharks put the socks on, the Bombas guys explain their innovations. Robert says specialty sport socks are everywhere, what makes Bombas different. They explain they have a premium sock for far less than competitors.
They say they are looking at $1.2 million in sales for the year. Current venture funding they have values the business at $ million. Kevin calls them "sock cockroaches" and goes out. Robert thinks the challenge is keeping socks as a stand alone product with online sales. They reveal they haven't spent money on acquiring customers, but Robert doesn't like their answer – he goes out.
Lori doesn't like that they want to hire a customer acquisition specialist, she's out. Mark doesn't like that the business has plateaued and he thinks their margins are too low, he's out too. That leaves Daymond. Kevin urges them to re-value the company before Daymond makes a decision.
Daymond then asks them to do a new valuation. Randy and David go to $200K for 10%, Robert is incredulous. Daymond then says he'll do $200K for 20%. The guys waffle and say they need more equity to get more investors. Daymond says he'll finance inventory if they do a deal, they counter at $200K for 15% with a $200K line of credit. Daymond counters at $200K for 17.5%. They want to call their CEO, but Daymond says he wants to deal with them. Randy and David accept and they do the deal with Daymond!
Bombas Shark Tank Update
The Shark Tank Blog constantly provides updates and follow-ups about entrepreneurs who have appeared on the Shark Tank TV show. Once an episode has aired, we monitor the progress of the businesses featured, whether they receive funding or not and report on their progress. The Shark Tank Blog will follow-up on Bombas, Randy Goldberg, and David Heath as more details become available.
In an episode 712 update segment, Daymond hosts Bombas, MySelf Belts, Sun-Staches, and Cozy Bug at an entrepreneurs workshop about increasing internet sales. Celebrity chef Rocco DiSpirito is cooking for the group and giving advice on social media. He says businesses have to engage fans constantly to increase sales. They share a gourmet meal and Daymond says these businesses have combined sales of over $11 million since appearing on Shark Tank. He thinks they are all going to an entirely new level.
The company is featured in Beyond the Tank episode 207. Read a full recap and update HERE.
Bombas gets another update in season eight's episode 818. In this update, they tell of their continuing domination. They are well on their way to $100 million in sales!
This business gets yet another update in season 11, episode 1117. This features the company's work with the homeless. It's also revealed that Bombas in now the NUMBER ONE sales earner on Shark Tank with sales of over $300 million!
In February, 2020, the company appeared in The Shark Tank Greatest of All Time Special in the "greatest money makers" segment. At this point, they are still the number one earner at $330 million.
As of June, 2021, they are doing $171 million in revenue annually and they are on track to becoming a billion dollar brand. By March, 2023, they are at $250 million in annual revenue. They employ around 160 people world wide and have given away over 50 million pairs of socks.
The company got yet another update segment in episode 1503. The update begins with the guys saying they did $900,000 in sales their first year. Now, ten years later, they have over $1 Billion in lifetime sales, making them the first Shark Tank company to reach that milestone. They have 150 employees and manufacture in 15 facilities in 8 different countries. They've donated over 100 million items to the homeless too. Daymond says the company has amazing products and an amazing story. It shows people want to give.
A few weeks after the update segment in October, 2023, Bombas was the number one Shark Tank business with lifetime sales of $1.3 billion.
Posts About Bombas on Shark Tank Blog
Bombas Information
Video