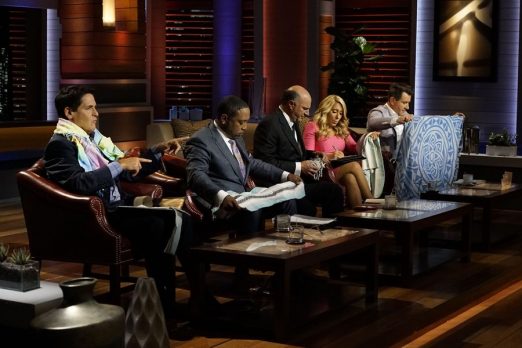 Shark Tank episode 818 is a milestone episode. During this show, the Sharks will surpass over $100 million in investments. It's such a big deal, the episode of 20/20 that follows is dedicated to a look back at the show's memorable moments. The 20/20 special, entitled Shark Tank: The Road to $100 Million, looks at the Shark's favorite moments, some made in America products, the biggest successes and failures, "kidtrepreneurs," and behind the scenes footage of the Sharks in action.
As always, 4 new entrepreneurs present their businesses to the wealthy panelists, hoping for a cash infusion and "the Shark Tank Effect." Episode 818 features millennial entrepreneurs – one of whom will be the business that breaks the $100 million threshold. James Brooks and Nathan Coleman show the Sharks Elephant Pants, their business that donates to elephant welfare with each sale of their comfy cotton harem pants with Thai inspired designs. Will Smelko and Ron Chang pitch Ora Organic, their line of GMO-free, sustainable, organic nutritional supplements they extract from fruits and vegetables. Bruno Aschimanini, Steven Ford, and Brandon Leibel pitch SandCloud, their beach lifestyle brand featuring plush beach towels with pillow inserts. Abby Speicher pitches DartDrones, her "school" for educating commercial drone pilots with in-person and online training, test prep, and entrepreneurial guidance.
Which business goes over the $100 million line?
Daymond invested $200K for 17.5% of Bombas in season six. The sock company with a social conscience (they donate a pair of socks to homeless shelters for every pair sold), was featured in an update segment in season seven and in an episode of Beyond the Tank. We'll see what they're doing now.
There are 28 Shark Tank Episodes for Season 8. This season features more appearances by Chris Sacca and a host of other surprises. Casting is currently closed, but it never hurts to get a head start on season nine! If you would like to appear on the show, check out our Auditions and Casting information.
Episode 818 – The Shark Investors and Entrepreneurs
The Shark Tank Episode 818 entrepreneurs will make their best pitch to the panel of five Shark investors who will use their own money if they choose to invest. The Shark Investors negotiate on the spot without any previous information, which differs from typical negotiations between venture capital investors and entrepreneurial start-ups.
Companies pitching the Shark Investors must go through a rigorous due diligence process before an on-air deal is completed. Shark Tank Blog follow ups help you keep track of the companies that end up successful and the ones that don't complete their deal.
Thank you for reading SharkTankBlog, the number one site for Entrepreneurs, Investors and Fans. Our content updates multiple times day, giving you the latest information on Episode 818, Season 8, and all other seasons and episodes.
Episode 818 Press Release
Shark Tank: Episode 818 (2/24)
ABC CELEBRATES $100 MILLION OF DEALS ON 'SHARK TANK'
One Millennial Entrepreneur Will Make the Deal That Takes 'Shark Tank' over the Threshold in a Special Episode airing Friday February 24,
Followed by '20/20's' "Shark Tank: The Road to $100 Million"
'20/20' Takes a Closer Look at the Incredible American Entrepreneurs Behind $100 Million in Deals Over the Last Eight Seasons, America's Favorite Sharks, Their Greatest Hits, Biggest Misses and the Best Behind-the-Scenes Moments
Two-Hour Programming Event From 'Shark Tank' and '20/20' Airs on the
ABC Television Network, Friday, February 24, Starting at 9:00 p.m. EST
9:00–10:00 p.m. EST
"Episode 818"— In a special episode featuring millennial entrepreneurs, one will make the deal that takes the award-winning "Shark Tank" across the $100 million threshold of deals made in the Tank, on "Shark Tank," airing FRIDAY, FEBRUARY 24 (9:00-10:01 p.m. EST), on the ABC Television Network.
Since 2009, more than 600 entrepreneurs have pitched their businesses in the Tank in hopes that they will be closer to attaining the American Dream. "Shark Tank" has given people from all walks of life the opportunity to secure business deals that could make them millionaires.
Those daring to swim with the Sharks in this pinnacle episode are: a former tech consultant-turned-chef and a former strategy and operations consultant from San Diego, California, who believe their tasty, artificial-free nutrients are the future of food supplements; a woman from Scranton, Pennsylvania, who comes from a family of entrepreneurs, needs a Shark to propel her training and educational courses for would-be drone pilots; two college friends now living in Brooklyn, New York, seek to help the animals that inspired their company with elephant-themed apparel; and three beach lovers from San Diego, California, introduce a stylish option to the standard beach towel, with proceeds helping to preserve marine life. Also, an update from David Heath and Randy Goldberg from New York, New York, and their sock company with a social mission, Bombas, which Daymond John invested in during season six.
The Sharks in this episode are Mark Cuban, Kevin O'Leary, Lori Greiner, Daymond John and Robert Herjavec.
"20/20" takes a look back at the Emmy Award-winning series "Shark Tank" and the incredible American entrepreneurs behind $100 million in deals made over the past eight seasons.
Anchors Elizabeth Vargas and David Muir interview America's favorite sharks – Mark Cuban, Kevin O'Leary, Barbara Corcoran, Daymond John, Robert Herjavec and Lori Greiner – about the most successful investments and the biggest misses in show history.
Muir takes a look at some of the "Shark Tank" products made in America and the entrepreneurs behind them who brought jobs to small towns nationwide.
Plus, the cast talks about the "kidpreneurs" who got their start on "Shark Tank" and where they are now.
Then the Sharks take viewers behind the scenes, revealing how competitive they really are with one another when the cameras aren't rolling and their favorite memories from the show.
"Shark Tank: The Road to $100 Million" airs on "20/20," FRIDAY, FEBRUARY 24 (10:01-11:00 p.m. EST), on the ABC Television Network.