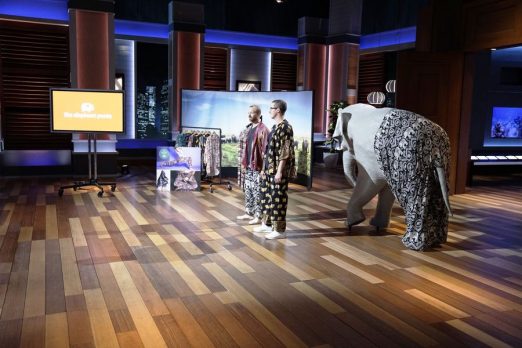 James Brooks and Nathan Coleman seek a Shark partner for their Elephant Pants in Shark Tank episode 818. They discovered elephant pants – baggy, harem style pants – on a trip to Thailand in 2013. Nathan bought some pants for himself and as gifts for friends. Everyone loved them, so he decided he'd start selling them.
They got their business off the ground with a modest, but successful Kickstarter campaign that raised $8,426. The pants are one-size-fits-all and cost $24.95. You can find all their styles on Amazon and in dozens of yoga studios and small clothing boutiques across the nation. Since starting with the original six styles of pants, they expanded to carry fleece lined pants, yoga pants, shorts, tops and more.
One dollar from each sale goes to the African Wildlife Foundations Say No campaign, which raises awareness about the origins of ivory in countries where demand is high. The campaign seeks to reduce demand for ivory through education. To date, they donated over $127,000 to the campaign; that's a lot of pants!
James and Nathan likely want a Shark's help getting into mass retail outlets. Will a Shark see the elephant in the room?
Elephant Pants Shark Tank Recap
James and Nathan enter with a giant paper mache elephant seeking $500,000 for 10% of their business. The elephant is wearing pants and they kid the Sharks that this is their business. They come clean and reveal the real product and say how they save the elephants.
They hand out samples and the Sharks, especially Lori, like them. Nathan says their main target market is female 18-24 year-olds, but Kevin reveals he owns over 40 pair of similar pants. Daymond thinks they look horrible, but when Nathan says they've done $7 million in sales over two years, all the Sharks are impressed.
When Mark asks about customer acquisition, the guys say they do a lot of targeted Facebook campaigns. Last month, they spent $75,000 on Facebook to get $434,000 in sales. Replying to Daymond, the guys say they want the $500,000 for more marketing, plus the "Shark value."
Robert applauds them, but he wouldn't use the product, so he's the first Shark out. Mark doesn't like that they rely so heavily on Facebook marketing, he's out too. Kevin offers two deals: a $500,000 line of credit for 5% or $500,000 for 20% equity. He'll also be their top model! Lori wants to partner with another Shark so Kevin says she can go in with him at $500,000 for a line of credit with 10% equity.
Daymond says he doesn't need Kevin and Lori. He jumps in and offers $500,000 for 17.5%. The guys counter with 12% but Daymond stands firm. While negotiating with Daymond, Lori and Kevin go out. The eventually do a deal at $500,000 for 15% plus 2.5% advisory shares.
Elephant Pants Shark Tank Update
The Shark Tank Blog constantly provides updates and follow-ups about entrepreneurs who have appeared on the Shark Tank TV show. For a while, Elephant Pants did a lot of sales and donated $30,000 to help save elephants. As of February, 2019, the company website is dark. The last Facebook post was in December, 2018. Their products are no longer available on Amazon, either.
In July, 2021, I received this email from Joe at Harem Pants:
My take on what happened with Elephant Pants (not facts, but what I can discern)

TheElephantPants.com went out of business at the end of 2018. They sold their business to I think a Chinese Supplier. I believe they've retained the domain TheElephantPants.com, but have redirected it to TheElephantPantz.com which the new owner owns. New owner is shady and rips people off.

Their Customers feedback since then:
https://www.facebook.com/TheElephantPants/photos/a.293700537503718/1055864697953961/The New Owners


The new owners made a shitty site and have stolen our images. We have no relationship with them. I've actually attempted to purchase their website so that their customers won't continually get screwed by them….as it does reflect poorly on this business as a whole. We have no affiliation with The Elephant Pants company. (This is all I'm asking for)They have new owners, which I believe do not do right by their customers. They steal others' creatives (images). I think they rip their customers off and no one should buy from them.

The Elephant Pants Lawsuits


TheElephantPants.com started attempting to sue anyone who used the term "Elephant Pants" because they have a trademark in TheElephantPants.com. They did this to us last, but were going after smaller online sellers for years before this. Some of our competitors reached out to us about this ahead of time, and we offered to pay their legal bills and help out anyway we could. The reason for this is, we live in Thailand where these pants come from. In Thai they're referred to as "Elephant Pants". These douchebags came to TH, took the name, went back to US and registered a similar trademark "The Elephant Pants" and attempted to threaten other domestic sellers of these pants with scare tactics. When they attempted to sue us, we refused to comply and told them we'd take it to court and would just waste money fighting the case. We would also attempt to get their trademark invalidated. It's important for us that other domestic sellers can continue to sell using the words "Elephant Pants". The funny thing is, out of respect to their business, we never actually used the terms "Elephant Pants" on our website before they sued us. We always used "Elephant Harem Pants". They still attempted to sue us and sent a copyright claim to Shopify and got our Website taken down temporarily. Their Supplier
Elephant Pants used a local manufacturer in Chiang Mai, Thailand to make their pants.  I think Elephant Pants stopped paying them, and put them in massive debt before they Elephant Pants closed down. I think they're back on their feet now, but I'd say that's a pretty shitty thing to do to a business partner which helped grow your business.

Cheers,

 Joe of the HaremPants.com
I verified Joe's assertations. Brooks and Coleman sold out in late 2017. I doubt the new owner is donating to any elephant rescue organizations either.
As of September, 2022, the company is out of business.
Posts About Elephant Pants on Shark Tank Blog
Elephant Pants Company Information
Video