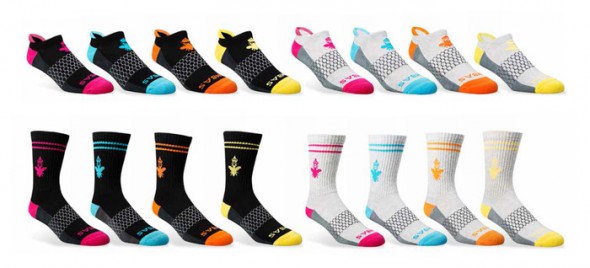 Does the world need better athletic socks? "Socktrepreneurs" Randy Goldberg and David Heath think so and they hope the Sharks do too when they pitch Bombas, their vision for better athletic socks, in episode 601 on September 26, 2014. Goldberg and Heath are the first crowdfunding success featured in season 6 (they are not the last) and their business continue's the Shark Tank's trend of finding businesses on crowdfunding sites. In Bombas' case, they raised $142,488 on IndieGoGo when they only had a $15,000 goal.
The socks look cool, although I have visions of my grandfather in black socks and sandals when I see the black socks! Bombas socks have a slew of features: "stay up technology to prevent slipping, a "Y stitched" heel to create a natural cup for the heel of your foot, blister tabs on the ankle socks to prevent blisters, a performance foot bed to provide extra support, Peruvian cotton for moisture wicking, a seamless toe for more comfort, a honey comb support system to provide mid-foot support, and snazzy colors to liven up the drab athletic socks that are currently on the market. Are they better athletic socks? They look and sound better, but the proof is in the fit and function.
Athletic Socks for Social Good

Goldberg and Heath got into the sock business to do good. When a Salvation Army Major told them "socks are the #1 most requested clothing item in homeless shelters," the proverbial light bulb over the head went on. They envisioned a sock company that donated a pair of socks to homeless shelters for each pair sold. The concept is the origin of the name, Bombas, a Latin word for "bee." They like the idea that "bees work together to make the hive a better place." The company slogan is "bee better," the company logo is a bee.
Other businesses have used the "buy one, donate one" concept successfully: Tom's shoes donates a pair for every pair sold and Warby Parker (eyeglasses) does the same. "Why not socks," they asked themselves. After they had the idea, they set about making the best, coolest looking socks on the market. This year, they're committed to donating over 26,000 pairs of socks.
My Take on Bombas
Shoes and socks are important to me. I do a lot of walking and I swear by my  Merrell hiking/walking shoes; I've owned over a dozen pairs over the years. I have a drawer full of premium athletic socks, too – but my wife usually gets them for me on Father's Day, Christmas and birthdays. I can't remember when I last bought my own socks. Women buy more men's socks and underwear for their men than men do for themselves; it's a known industry fact (that's why there are always buff guys on the packaging). To be honest, I don't even know what my socks cost!
Bombas socks are $9 a pair, which seems steep. My wife confirmed she usually spends about that much for three pairs of "premium" athletic socks when she gets them for me. In reality, it's really TWO PAIR for $9: one for the consumer and one for the homeless shelters, but the end result is still only one pair for the paying customer. As my wife said, "for nine bucks, they better be damn good and last a long time." If they do feel better and outlast "traditional" athletic socks, it's a good value I suppose. I'd like to try a pair, to be honest! (hint hint – Christmas is coming)
Do Sharks Sock it in and Invest?
Athletic Socks are a huge and very saturated market, so competition is high for sales. That said, the social message, cool looks, and quality manufacturing Bombas pitches could stand out in the athletic socks marketplace. I've seen dress socks selling for upwards of $50 and beyond at fancy schmancy stores, perhaps a premium athletic sock could gain some leverage.
Since everyone needs socks and the price-point is relatively low, Lori could have interest in Bombas. Clothing items sell on QVC all the time, why not socks? Robert might bow out early, but he has clothing (Tipsy Elves) in his Shark Tank portfolio. He invested in the ugly sweater company because they sold product through good SEO. If Goldberg and Heath have a similar story, Robert might nibble.
Mr. Wonderful will likely say anyone can make this kind of sock and, after being refused for a ridiculous royalty offer, will bow out. Mark usually doesn't go for clothing of any kind; he'll have the old "I'm not the right partner" line and go out gracefully. That leaves Daymond.
Daymond is the obvious target for any kind of clothing. If he likes the concept and the socks, he could bring margins down with his manufacturing connections. He's also be an asset to Bombas when it comes to retail distribution.
The bottom line is whether Bombas can convince the Sharks their product is in demand. If they have the numbers to show it's a real business, they should field multiple offers.