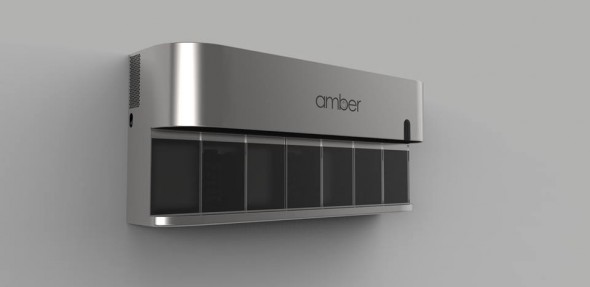 Bill Shuey hopes the Sharks get a charge out of Amber, his free, self-locking cell phone charging station, in episode 601, the season 6 premier. Shuey, who was contacted by Shark Tank producers back in April 2014, developed Amber to people could charge their phones securely while out at places like museums, restaurants and movie theaters.
The venues buy Amber for a little under $200 and can choose to charge people to use the charging station or not. Part of the angle is businesses that provide Amber charging stations for their customers will gain more loyalty and, hopefully, choose to return because of the extra value-add. Another plus in restaurants is if someone's phone is locked up in Amber, they can't pull it out at the table!
Another twist is Amber allows businesses to collect data and build a customer database with Amber. The app also shows customers where the service is available. The idea is some people might choose one venue over another if an Amber charger is available, especially if they're low on battery power.
Shuey is likely looking for a Shark to provide capital for inventory and strategic introductions for sales. Does this company have what it takes to partner with a Shark?
Amber Shark Tank Recap
Bill and his partner, Kyle, enter seeking $250K for 25% of the business. They do a quick demonstration and show how secure it is. They reveal they're "pre-revenue," and reveal it costs $2K to buy a unit or $150 per month on a lease. Robert doesn't think they can deliver a secure fingerprint scanner to secure the phones in the charger.
When Bill and Kyle reveal it costs them $1000 to make the product, the objections start flying and Lori goes out immediately. Daymond thinks other products on the market serve the same purpose and Mark says it's a bad idea. He goes out. Kevin says it's the worst idea he's ever seen, and he goes out. Daymond follows. Robert thinks they're competing with free solutions, and he goes out. The Sharks think it was one of the shortest and worst pitches they've seen. In the hallway, Bill says he'd like to "rail Herjavec in the teeth." NO DEAL.
Amber Shark Tank Update
The Shark Tank Blog constantly provides updates and follow-ups about entrepreneurs who have appeared on the Shark Tank TV show. After airing, they heard from many manufacturers and distributors, but not many direct buyers. They took the Sharks' advice and dropped the price to $75 a month and added a consumer payment option. The company didn't last long though as they "continued to run into trust issues" with potential customers due to the poorly portrayed pitch. Amber went out of business in 2015. As of August, 2021, Kyle is a Senior Product Manager at Atlassian, a software company and Bill is in sales at Long Home Products, a home improvement contractor.
Posts About Amber on Shark Tank Blog
Company Information