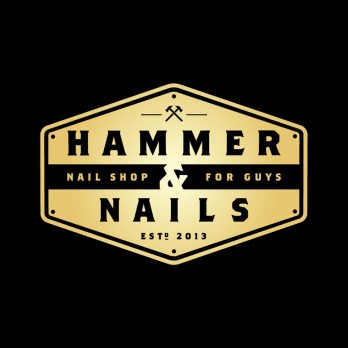 Michael Elliot wants the Sharks' help to put the "man" in manicure when he pitches Hammer and Nails, a nail salon for men, in episode 601 – the season 6 premier. Eliot, a former screenwriter turned entrepreneur, opened the shop in November, 2013. He did a lot of market research and found many men want manicures and pedicures, but they don't like going into "girly" salons to get one.
What Eliot did is create a man-cave-like atmosphere, complete with deep leather chairs, wide-screen TVs, and free beer, so men would feel more comfortable getting their nails done. Women, other than manicurists, are forbidden from the shop. The concept is like an upscale, old-school barber shop: a boy's club with manicures.
So far, the LA store is doing well. Michael envisions a nation-wide string of franchises for Hammer and Nails. He's likely looking for a Shark's cash to help with expansion.
Will Michael's pitch be polished enough for the Sharks?
Hammer and Nails Shark Tank Recap
Michael enters the Shark Tank seeking $200K for 20% of his business. He describes the man-cave atmosphere of the Hammer and Nails salon. He invites Robert down for a manicure. While Michael tells how he came about opening the salon, Robert looks like he's enjoying the pampering. Hammer and Nails has done $150K in 7 months, with about 3000 customers.
While sharing his background as a homeless youth, he explains how he created Krush Magazine – the "Rolling Stone of Hip Hop." Daymond's heard of him, but he blows the Sharks away when he tells how he became a successful screenwriter.
Kevin then asks about the numbers. Hammer and Nails is currently breaking even. Mark doesn't want to franchise, thinking it's putting the cart before the horse, so he's out. Lori isn't sure men will go to a place like this, so she's out. Robert says he appreciates the manicure, but he's out. Kevin says "the numbers rule, this will never work" and goes out. Daymond applauds the concept and he's been to a similar place in New York. Daymond wants to be able to up-sell, so he's out. The result, NO DEAL.
Hammer and Nails Shark Tank Update
The Shark Tank Blog constantly provides updates and follow-ups about entrepreneurs who have appeared on the Shark Tank TV show. Even though Michael didn't do a deal  with a Shark, he got his $200,000 from eight viewers of his episode, two of whom are African American female angel investors. Since airing, Hammer and Nails has expanded its offerings: they now offer haircuts and straight razor shaves. Michael continues to pursue the franchise route for his business and claims to have several franchisees "in the pipeline," but there are none open as of June, 2016.
In 2018, Michael brought in some industry heavy hitters: Chief Executive Officer, John Choi and President & Chief Operating Officer, Aaron Meyers.
As of August, 2021, there are 12 franchises plus the original store. 8 of the franchises are in California, 2 in Texas, 2 in Ohio, and 1 in Virginia. There are 13 franchises in development at this time too. Annual revenue of all stores is $25 million.
By October, 2022, the number of franchises including the original store has grown to 41 including 10 in California, 2 in North Carolina, 2 in Texas, 2 in Connecticut, 9 in Ohio (with 2 more coming soon), 2 in Florida, 1 in Arizona, 3 in Virginia and 1 in Pennsylvania. Mr. Wonderful was so wrong about this company. Revenue in 2021 grew 270%! By April, 2023, there were 47 locations. Annual revenue is $25 million.
Posts About Hammer and Nails on Shark Tank Blog
Hammer and Nails Information
Video