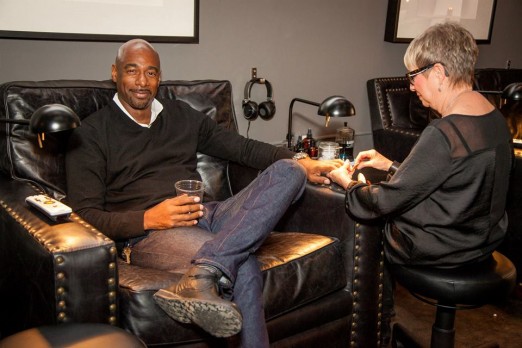 Michael Eliot, screenwriter turned entrepreneur, pitches Hammer and Nails, a nail salon for men, in episode 601. Eliot wants to "put the 'man' back in manicure," and envisions a nail salon for men in every major city. Hammer and Nails is in Hollywood and just opened in November, 2013 to rave reviews and lots of customers. Eliot believes, after exhaustive market research, that men want services like this, but they don't want to go into a women's salon to get them.
That's why Eliot made the decor straight -up "man cave," with deep leather chairs, manly art, big screen TV's, and beer or scotch for the man being manicured. Women, other than the manicurists, are not allowed. The concept is, if you can make a nail salon for men that men will be comfortable in, they will come. The available services, besides standard manicures and pedicures, include:  hot stone therapy, invigorating scrubs, extensive foot and calf rubs, eucalyptus oil-infused warm towels, and paraffin treatments.
There are other businesses that chase the pampered man crowd. Truman's Gentlemen's Groomers in New York is a nail salon for men that also offers barber and shaving services. The Truman's decor is more "traditional spa sleek" than Hammer and Nails, however.
Would I Use a Nail Salon for Men?
My answer is, "probably." I've had hot stone therapy on a cruise and it was awesome! I also got a pedicure and foot massage as a gift a few years ago and I didn't want to leave the chair. A good foot massage is almost as good as free beer, and Hammer & Nails has both!
I am not the type of guy who would go out and get this for myself, but I KNOW my wife and daughters would get this for me as a gift (they are getting tired of buying me socks and Red Sox apparel). I would use it happily too. The place I got my pedicure and foot massage was in the mall; there were other guys there, but the environment wasn't one tenth as cool as Hammer and Nails.
The nail salon for men concept seems like a good franchise idea. The entry costs can't be anywhere near as high as a restaurant franchise and the unique hook should appeal to men everywhere. The real question is will it play in Dubuque as well as it does in Hollywood?
Will the Sharks Hammer Out a Deal?
Franchising is dicey in the Shark Tank. The only successful deal that involved franchising I can recall was How Do You Roll, the Sushi franchise, which now has 10 locations. The objection Eliot will face from the Sharks is anyone with some salon experience could open a nail salon for men without paying for a franchise.
Mr. Wonderful strikes me as the type of guy who has regular manicures; he's very well-groomed and likes the finer things. He'd be a good customer, as would the other male Sharks, but I don't think he's an investor unless Eliot can show some serious numbers and offers a sizable piece of the business.
I don't think Robert or Mark will be into this, though they may get their nails done as a demo. Daymond might make a play, he's the type who'd go to a nail salon for men. Like O'Leary, Daymond is very well-groomed and likes that image (I've met Daymond twice and his nails are impeccably groomed). He may like the concept, but I don't think he'll like the investment. It would be ironic if Lori, the only lady Shark on the panel in episode 601, invests in this. I don't think she will though – she's more product oriented.
Although the concept of a nail salon for men is unique and Mr. Eliot is on to something, I think a deal in the Shark Tank is a long-shot.