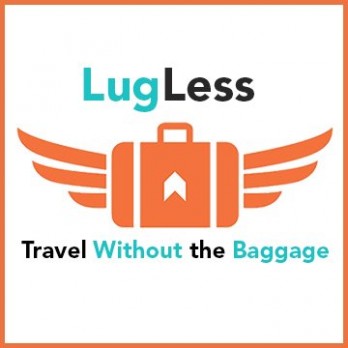 LugLess entrepreneur Brian Altamore pitches his door-to-door luggage pick up service in the Shark Tank in episode 423. The LugLess service will pick up your luggage from your front door and deliver it to your final destination for a small fee. Travelers save money in "extra baggage fees" many airlines now charge and they save time at check-in and at the luggage carousel at journey's end. It's a classic marriage of convenience and savings that is becoming very popular with frequent travelers. People who pack heavy are the biggest beneficiaries of the LugLess service and, unlike many airlines, they offer a $500 money-back guarantee should bags not make it to their final destination. Currently, there are several other competitors in this space and the airlines are starting to offer similar services; Brian hopes the Sharks can help get the strategic relationships and start-up capital needed to get LugLess off the ground.
LugLess Shark Tank Recap
Altomare comes into the Shark Tank seeking $100,000 in return for a 10% stake in his company, Lugless. The premise is simple: Rather than paying exorbitant fees to the airlines and having luggage disappear in transit, frequent flyers can save money by using the less expensive and more customer-service oriented Lugless service. Will the Sharks bite?
Robert Herjavec compares the business model to FedEx. Altomare responds that his service costs 20-60% less, because he "bulk buys" the shipping. The sales have been $215,000 in the first year.
Kevin O'Leary asks why Altomare hasn't licensed the service to airlines. Altomare has focused on partnering with hotel chains and other travel focused businesses.
Robert Herjavec sees this as a premium service. He believes the cost to the customer will be too high, and he goes out.
Kevin O'Leary compares the business model to what happens in the cell phone industry, with very thin margins and heavy competition. He feels the risk is too high, and he's out.
Daymond John isn't convinced of the idea. He's out.
Lori Greiner believes the competition is too strong. She's out.
Mark Cuban says that Lugless has a "huge problem" in competition, and doesn't believe that the service is affordable or convenient enough for the customer base. He's out, and Altomare leaves the Shark Tank with no deal.
Lugless Shark Tank Update
In spite of sinking in the Shark Tank, Altomare continued to grow his business after the show. His social media and website are still active, and the business seems to be showing a profit. After the Shark Tank, Altomare narrowed his focus to the high-end traveler, for whom price is less of a concern, and also to the price-conscious customer. With international customers, he's able to offer a discount because he's buying the services in bulk, bringing his price point down.
Altomare has carved himself a niche in the travel industry. It may be too small a space to fit a Shark deal, but for this entrepreneur, the luggage shipping industry has proven profitable.
In fact, it was so profitable, it was acquired by Luggage Forward, "the worldwide leader in door-to-door luggage delivery." on December 8, 2014 for an undisclosed amount. Brian still works for the company as of August, 2023.
Posts About LugLess on Shark Tank Blog
LugLess Information