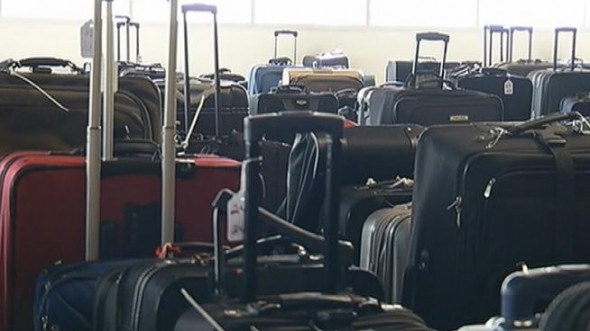 Entrepreneur Brian Altamore pitches his door-to-door luggage pick up service, called LugLess, in Shark Tank episode 423. Checking bags at the airport is becoming an increasingly expensive hassle when traveling. Most US airlines charge baggage fees: the airline industry reports over $815 million in collected baggage fees last year and it's a number that won't likely go down. Added to the price is the hassle of checking bags at the airport: long lines and TSA searches make checking bags a time-consuming bother, particularly to folks who bring a lot of gear with them while traveling.
As a result of the added hassles and cost of checking bags, many luggage pick up service providers are gaining market share. The concept is simple – LugLess picks up your luggage at your home and delivers it to your destination, eliminating the added expense and time of checking bags. Think FedEx for your luggage! With bag check fees edging ever higher throughout the airline industry, the cost of a luggage pick up service is comparable to lugging your bags through the airport and onto the plane with you. When you factor in the reduced time in line and invasive searches conducted, a luggage pick up service like LugLess starts to sound like a good idea.
Is a Luggage Pick Up Service a Sound Business Concept?
When I first went off to college, I remember shipping a lot of stuff to my dorm via UPS. It wasn't feasible to bring stereo equipment, computers (which weren't so small in my college days), and other items onto a plane, so they arrived at school a day or two after I did. I recall it being a pricey, but necessary, solution. A luggage pick up service would have been both a savings and a convenience.
When I travel these days, I usually travel light. On a recent trip to Florida, I packed two pairs of shorts, three pairs of underwear, three tee shirts and a bathing suit. I wore chinos and a dress shirt on the plane and, in true Florida style, wore my Xeroshoes as my only footwear! Since we were able to do laundry, I was good to go for the 11 day vacation (although my parents thought I was nuts wearing Xeroshoes to dinner at their golf club).
When my knees and back were young and healthy, I enjoyed skiing and lugging all that ski gear on the plane to Colorado or Utah was a big hassle. I haven't skied since the new TSA restrictions were in place, but traveling with ski gear (or other bulky bags like golf clubs) has become an even bigger – and more expensive – hassle. LugLess probably has a lot of appeal to golfers and skiers.
Will the Sharks Pick Up on an Investment?
The concept of a luggage pick up service is sound. Air travel isn't going away, and neither are people who pack everything but the kitchen sink. The problem I see with the Sharks investing in this is it's a logistics type of business and I don't see them embracing it, even if it is a good idea. Even though LugLess offers a $500 on time guarantee, I think the Sharks will have too many questions about what could go wrong with the business.
The other objection is there is a lot of competition in the luggage pick up service space. There are some bigger players in the space and several airlines are offering that level of service at similar rates. LugLess may get some new customers from the panel, but the Sharks aren't fond of small fish swimming in a crowded and competitive pond, so I think they'll all go "out."