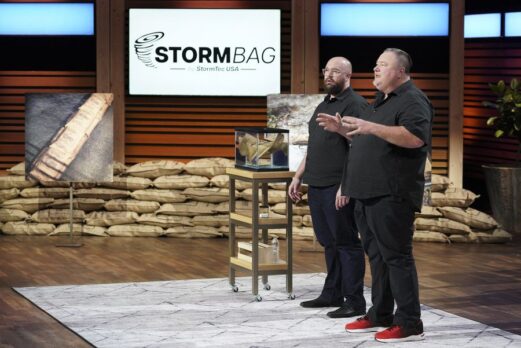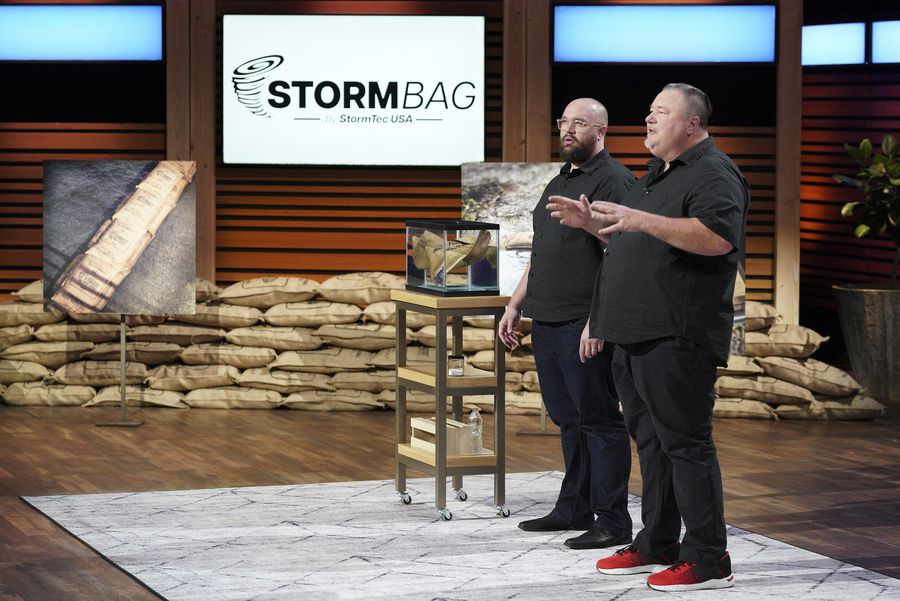 Father and son team Miles and Maurice Huffman hope to bag a deal for Strom Bag, their reusable "sandbags" for disasters and flood prevention, in Shark Tank episode 1503. The reusable sandbag-like product was invented by Maurice, an owner of a military surplus store and life-long musician, back in 2007. He was selling around 200 bags a week for several years. When Hurricane Irene was bearing down on the east coast of the USA in August, 2011, he sold 10,000 in one week.
Theyaren't really sandbags. They're burlap bags filled with Crosslinked Polyacrylamide powder which, when added to fresh water, form a heavy hydrogel. Inside of the bags, the system performs just liike a regular sandbag. The best part is they dry out in a few weeks and can be easily stored and re-used. No more filling single use sandbags.
They sell them direct to consumer on their website in kits designed to cover specific areas – like a garage door. Each bag is less than $10 per bag and the kits come with poly sheets, duct tape and a box cutter to seal openings. A garage door kit with 15 bags costs just $54.99. They also wholesale the product to federal, state and local government agencies. With storms intensifying over the past several years, they're hoping a Shark can help them get the word out about Storm Bag.
Company Information
Video

Posts about Storm Bag on Shark Tank Blog
Storm Bags: The Eco-Friendly Solution to Flood Control
Storm Bag Shark Tank Recap
Miles and Maurice enter the Shark Tank seeking $200,000 for 10% of their business. Miles talks about the back breaking labor and thousands of pounds of sand involved with traditional sandbags. He points to a sandbag wall onstage and says one person can build a wall like it in minutes with no shoveling or sand required. Maurice introduces the Storm Bag as miles adds a dry bag to an aquarium full of water. The bag expands. When it's dry, it weighs 1 pound; when wet, it's 30 pounds.
The Sharks examine their dry samples. There are jars of the Crosslinked Polyacrylamide powder with the samples to demonstrate how much is in each bag. Each grain absorbs 300 times its weight. They're reusable 3 times. Maurice explains his other business and Miles talks about his degree in graphic design. He joined the family business with his dad to help with marketing. They took it to a trade show and did a Tik Tok video of the product in action that got 7 million views.
Miles explains the family is from Paradise, California which completely burned down in the wild fires a few years ago. They lost their homes, business and their employees' homes. When it came time to rebuild, that's when Miles joined the business. The Sharks are moved by the story.
Kevin questions the valuation.  They have $90,000 in sales for the year with no marketing. Each bag costs $2 to make and they sell for $5.50. Kevin says they'll be a lot of education to do and they're competing against free sandbags. Miles says the Storm Bags is useful in the home if a pipe breaks and there's a flood. You can also put them in the garden if you go away and the bags will release the water and water the garden. They need to be rehydrated every 2-3 weeks depending on the weather.
Kevin hates competing against free; he's out. Lori wants to make baby bags for indoor plants. Daniel gets up and whispers to Daymond. Daniel and Daymond offer $200,000 for 40%. Mark gets up and whispers to Lori. Mark and Lori offer $200,000 for 30%. Mark says they need to repackage it for different applications and he thinks they should charge more. Miles and Maurice go with Mark and Lori.
Storm Bag Shark Tank Update
The Shark Tank Blog constantly provides updates and follow-ups about entrepreneurs who have appeared on the Shark Tank TV show. Once an episode has aired, we monitor the progress of the businesses featured, whether they receive funding or not and report on their progress. The Shark Tank Blog will follow-up on Storm Bag & Miles and Maurice Huffman as more details become available.