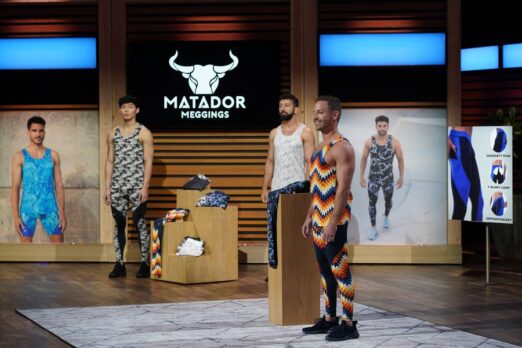 Valentine Aseyov seeks a fit for Matador Meggings, his leggings for men, in Shark Tank episode 1503. When Aseyov was training to be a yoga teacher, he was surrounded by women wearing leggings. He wanted to wear leggings too, but traditional leggings would expose his privates. He went looking for leggings for men (meggings), but couldn't find any, so he designed his own.
The meggings are designed with men's anatomy in mind. The secret is the "No-VPL (Visible Penis Line) Technology. Basically, this hides the male "jewels" in a way that won't expose the male version of "camel toe." Each pair has an open pocket for your phone, a zippered pocket for valuables, an inner drawstring for extra security, and a t-shirt/towel loop.
The name – Matador Meggings – is inspired by Matadors who wear tight fitting pants for mobility. The compay's original design mimicks a bull's horns. A pair of meggings will set you back $90 and they come in a wide variety of desigbs. They also sell belt bags, chest bags, water bottles and reflective belts. Valentine likely wants a Shark's help scaling growth.
Company Information
Video

Posts about Matador Meggings on Shark Tank Blog
Matador Meggings Shark Tank Recap
Valentine enters the Shark Tank seeking $250,000 for 10% equity in his company. He addresses Kevin and says he must be jealous of Lori when she wears leggings and he's probably worried about exposing too much of his "goodies." Valentine says he invented a sports bra for your man parts. Everyone laughs. Matador Meggings is a mens sportswear brand specifically designed for the male anatomy. They feature a modesty pad to conceal the groin and give you a perfectly rounded "super hero crotch."
Studies show compression pants help increase blood circulation and activate minor muscles. This leads to improved performance during workouts and faster recovery. The company offers leggings, compression shorts and bike pants in over 50 bold patterns and colors. He shows off the open phone pocket, zippered pocket and towel loop. They're made with high performance sweat wicking fabric that feels like a second skin.
Kevin wants to know about the crotch cup; it's a soft molded cup he calls a modesty pack. It gives you a round shape and won't augment the groin department. Matador is the only product on the market that offers this crotch solution.
Let's Hear About It
Valentine tells the Sharks he was born and raised in Turkey who is half Spanish. He worked at Facebook for 8 years helping to build the global organization. 8 years ago he was training to be a yoga teacher and he found himself in a roomful of women in leggings. He went looking for leggings that would conceal the groin and he couldn't find any. He decided he would make his own so he stole some old bras from his sister and sewed the foam cup to a pair of leggings.
Lifetime sales are over $2 million over the course of 3 years. 2022 revenue was $620,000  and he's projecting $1 million for 2023. Valentine is a 1 man show: he does the manufacturing, marketing and sourcing. He currently has 50 SKUs. The Meggings coast $18 to make and they sell for $92. The first year in business he focused on customer acquisition and this year he's focused on profitability. So far in 2023 (July) he has $200,000 in sales but he does most of his sales in the 3rd and 4th quarter.
Who's In?
Kevin thinks the cup isn't proprietary and big brands will copy it. Valentine wants that to happen because it will grow the market and benefit him. Kevin says if he gives Valentine $250,000 then he gets run over by a truck, there is no business; he's out. Mark says all the Mavericks players wear compression pants with shorts over them. Mark says the biggest thing about leggings is the performance of the compression and he thinks it isn't a large market; he's out. Lori isn't sure guys will wear it a lot; she's out. Daymond thinks this is for super active people but Valentine says his customers are diverse by age and activity level. Daymond thinks it's a great business for Valentine, but it's not invesable; he's out. Daniel thinks Valentine needs to spend more time figuring out his target consumer; he's out too.
Matador Meggings Shark Tank Update
The Shark Tank Blog constantly provides updates and follow-ups about entrepreneurs who have appeared on the Shark Tank TV show. Once an episode has aired, we monitor the progress of the businesses featured, whether they receive funding or not and report on their progress. The Shark Tank Blog will follow-up on Matador Meggings & Valentine Aseyov as more details become available.