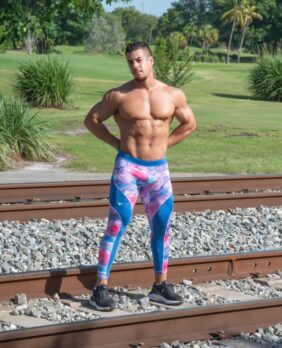 Get ready to meet Matador Meggings, the game-changer in men's athletic apparel that's about to make a big splash in the Tank. With a blend of style, comfort, and innovation, Matador Meggings is set to redefine the way men approach activewear.
The Matador Revolution
Gone are the days when men were limited to traditional gym shorts and sweatpants. Matador Meggings is here to introduce the world to "meggings" – leggings designed exclusively for men. But they're not just any leggings; they're a breakthrough in athleticwear that combines functionality, style, and durability.
The Unique Features
Matador Meggings are not just your average pair of leggings. Here's what sets them apart:
Comfort Fit: Matador Meggings are designed with men's body shapes in mind, providing exceptional comfort during workouts and daily activities. The secret is the "No-VPL (Visible Penis Line) Technology.
High-Performance Material: These meggings are crafted using premium, moisture-wicking, and breathable fabrics that keep you dry and comfortable, no matter how intense your workout.
Stylish Designs: Say goodbye to plain, boring workout gear. The meggings come in a wide range of stylish and bold designs, ensuring you look your best both in and out of the gym.
Pockets Galore: Practicality is key. These meggings feature multiple pockets to hold your essentials securely while you're on the move.
Durability: Built to withstand the rigors of even the most grueling workouts, Matador Meggings are designed to last, making them a worthwhile investment.
The Entrepreneurial Mind Behind the Brand
Matador Meggings was founded by visionary entrepreneur Valentine Aseyov, who saw a gap in the men's athleticwear market. He recognized the need for high-quality, stylish, and functional activewear designed specifically for men.
The Shark Tank Pitch
Valentine is ready to dive into the Shark Tank, seeking investment and guidance to take Matador Meggings to the next level. I predict he'll have a compelling pitch that highlights the growing demand for men's activewear and his unique approach to addressing it.
As fans of the show, we can't wait to see how the Sharks react to this innovative product. Will they recognize the potential in Matador Meggings and make a deal or will they pass on this opportunity?
Stay Tuned!
Mark your calendars and set your reminders because Matador Meggings is about to make its debut on Shark Tank. Don't miss this exciting episode to witness the future of men's athleticwear. We'll be watching and rooting for Valentine as he pitches his revolutionary product to the Sharks!
Are you as excited as we are about Matador Meggings' appearance on Shark Tank? Share your thoughts and predictions in the comments below. Let's support innovation in men's activewear!