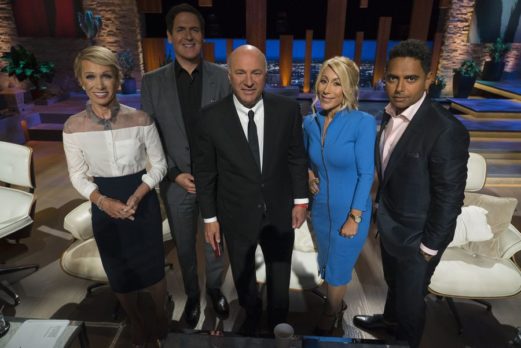 Guest Shark and branding guru Rohan Oza returns to the Tank in episode 1017. Together with Mark, Lori, Barbara and Kevin, he'll evaluate four new businesses seeking an investment from one of the wealthy Sharks.
Eric Roy seeks an investor for Hydrovi, his water filter company that adjusts its filtration media according to local water conditions. Stephen Epstein wants the Sharks to flip over Flip-It Cap, a device that gets every last drop out of bottles of "thick liquids." Dan Killian pitches Pricetitution, his party game that asks how much money it would take your friends to do absurd things. Former attorney Jim Otteson introduces Luma Soda, his "healthy" soda sweetened with monk fruit and honey. Which new business gets a deal with a Shark?
In season nine, Mark, Lori and Sir Richard Branson invested $360,000 for 30% of Grypmat, a silicone tool organizer. After experiencing a tenfold increase in sales after airing, we'll find out what else the company is up to tonight.
The Sharks
---
Barbara Corcoran
Rohan Oza
There are 28 Shark Tank Episodes for Season 10. This season features more appearances by "guest Sharks," including billionaire Jamie Siminoff. The 200th episode also airs this season. Casting is currently closed, but it never hurts to get a head start on season ten! If you would like to appear on the show, check out our Auditions and Casting information.
Episode 1017 – The Shark Investors and Entrepreneurs
The Shark Tank Episode 1017 entrepreneurs will make their best pitch to the panel of five Shark investors who will use their own money if they choose to invest. The Shark Investors negotiate on the spot without any previous information, which differs from typical negotiations between venture capital investors and entrepreneurial start-ups.
Companies pitching the Shark Investors must go through a rigorous due diligence process before an on-air deal is completed. Shark Tank Blog follow ups help you keep track of the companies that end up successful and the ones that don't complete their deal.
Thank you for reading SharkTankBlog, the number one site for Entrepreneurs, Investors and Fans. Our content updates multiple times day, giving you the latest information on Episode 1017, Season 10, and all other seasons and episodes.
Episode 1017 Press Release
Shark Tank: Episode 1017 (4/14)
BRAND GURU ROHAN OZA RETURNS TO THE 'TANK' ON AN ALL-NEW EPISODE OF ABC'S 'SHARK TANK' SUNDAY, APRIL 14
"Episode 1017" – First into the Tank is an entrepreneur from Chicago, Illinois, who introduces his socially interactive, hilarious party game that will reveal much more about your friends than you may want to know. An entrepreneur from Washington, D.C., pitches his customized household product that ensures the safety of your family. An entrepreneur from Tenafly, New Jersey, presents his reusable bottle-emptying device for an easy solution to getting every last drop from your product. Last into the Tank is an entrepreneur from Mountain View, California, who introduces his healthy alternative to soda on "Shark Tank," SUNDAY, APRIL 14 (10:01-11:00 p.m. EDT), on The ABC Television Network, streaming and on demand.
In a "Shark Tank" update, Tom Burden, from Columbus, Ohio, updates his investors Mark Cuban, Lori Greiner and Richard Branson on Grypmat, a multipurpose rubber tool tray that keeps tools in place.
The Sharks in this episode are Mark Cuban, Kevin O'Leary, Lori Greiner, Barbara Corcoran and Guest Shark Rohan Oza.