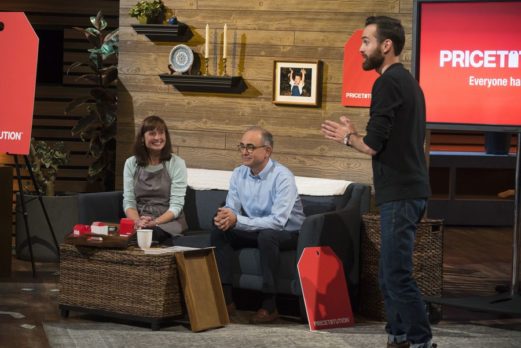 Dan Killian hopes the Sharks give him the right price for Pricetitution, his adult parlor game, in Shark Tank episode 1017. The game is based on the idea that "everyone has their price." It came about from conversations with his friends. Inevitably, the question "how much money would it take for you to (fill in the blank)?" The game is to guess how much money it would take your friends to do absurd things.
With questions like "how much would it cost for you to drink my pee," it gets hilarious quickly. Designed as an adult "get to know you" party game, it takes the kinds of things you already talk about and puts them in a game format. To play, a player (the Pricetitute) draws a price tag from the deck. The other players have a minute to question the Pricetitute to get an idea of their answer. Next, everyone writes down the lowest possible dollar value for what the player would do the task for. Then, everyone shares their prices and the one closest to the player's price gets a point. The first to four points wins the game.
Dan got the business going back in December, 2017, with a successful Kickstarter campaign that raised $23,500. A game, which comes with 125 price tag cards, costs $21.99 and is available on Amazon. A company called Panda Manufacturing, a leading game manufacturer. Dan likely wants a Shark to help him get distribution into toy and game retailers and for marketing. The question is, "how much is a Shark willing to pay?"
Pricetitution Company Information
Video

Posts About Pricetitution on Shark Tank Blog
Price-titution – Because Everyone has a Price
Pricetitution Shark Tank Recap
Dan will pitch the panel of five Sharks on the business and its prospects for growth. He'll need to convince Mark Cuban, Kevin O'Leary, Lori Greiner, Barbara Corcoran and Guest Shark Rohan Oza that the company is worthy of a Shark investment. A good business plan, good financials, and sales data will impress the Sharks, but he'll need to show them HE is capable of running the company to "Shark standards." A full pitch re-cap on Pricetitution will be available on Shark Tank Blog once this episode airs.
Pricetitution Shark Tank Update
The Shark Tank Blog constantly provides updates and follow-ups about entrepreneurs who have appeared on the Shark Tank TV show. Once an episode has aired, we monitor the progress of the businesses featured, whether they receive funding or not and report on their progress. The Shark Tank Blog will follow-up on Pricetitution & Dan Killian as more details become available.