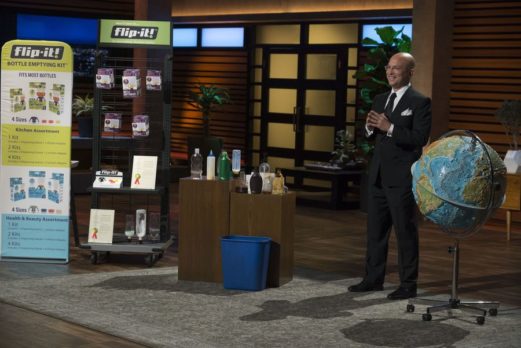 Stephen Epstein hopes to get a Shark to flip for Flip-It Cap in Shark Tank episode 1017. Flip It Cap is an attachment for all kinds of bottles that lets you get every last drop of liquid out. Epstein was frustrated one day when his lotion bottle pump gave out and there was no easy way to get the rest of the product out of the bottle. That's when he invented Flip-It Cap.
Flip-It Cap works for virtually any kind of thick liquid: health and beauty products, condiments, etc. It's a cap with a little stand that screws on to a bottle and lets it stand upside down. Gravity pushes all the liquid to the valve which dispenses product when opened. 25% of beauty products and up to 15% of kitchen condiments are wasted because it's hard to get the rest of the product out of the bottle. Flip-It Cap solves the problem.
Flip It Cap is widely available on Amazon, BedBathandBeyond.com, The Container Store, United Supermarkets, Menards, Salon Centric, Cosmoprof and QVC.com. The caps come in kits with anywhere from 2 to 8 in a pack ranging from $11.99 to $54.99. When you order more, you can use them on more products and start reducing waste. The company has problems with "knock-offs" and is vigorously pursuing patent infringements. They likely want a Shark to join them in that battle. Will one of the Sharks flip for this company?
Flip-It Cap Company Information
Video
Posts About Flip-It Cap on Shark Tank Blog
The Flip It Cap Gets the Last Drop
Flip-It Cap Shark Tank Recap
Stephen enters seeking $500,000 for 10% of his business. He explains and demos the product then hands out samples. He reveals the product appeared on QVC 65 times, but he's seeing a drop in revenue. He wants an investor to build new molds and bring his costs down.
The Sharks don't think cost of goods are Stephen's issue. Since he first invented the product, packaging has evolved, making it less necessary. None of the Sharks like that he has $500,000 in inventory, either. Stephen offers rebuttals to each objection, but the Sharks aren't biting. One by one, the Sharks go out and Stephen leaves with no deal.
Flip-It Cap Shark Tank Update
The Shark Tank Blog constantly provides updates and follow-ups about entrepreneurs who have appeared on the Shark Tank TV show. While Stephen did not get a deal, sales did tick up after the show and his website touts over 26,000 orders. While some packaging has evolved, there are plenty of uses for the product still. It's readily available on Amazon and it appears it's here to stay – at least for the time being. As of February, 2020, Stephen and his caps appeared 72 times on QVC. He also has products in Sally Beauty and ACE Hardware stores. As of March, 2023, the company is still in business and has $1 million in annual revenue.