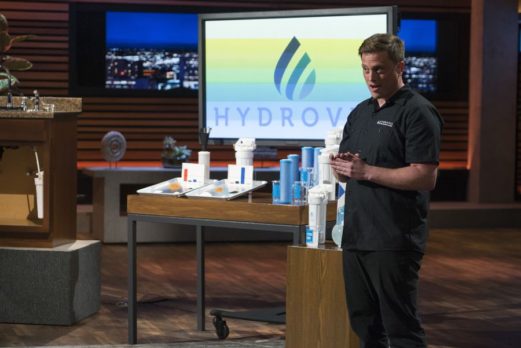 Eric Roy seeks a partner for Hydroviv, his water filter company, in Shark Tank episode 1017. What makes Hydroviv filters different from other filters is they are "optimized" for local water conditions. What this means is they adjust their filter media to account for specific contaminants in local water supplies For example, a filter sold in Houston, Texas will have different filter media than a filter sold in Boston, Massachusetts. The company assesses water quality through publicly available federal, state and local water testing and quality reports.
Hydroviv filters remove lead, chromium-6, arsenic, chlorine, and a whole host of other chemicals and contaminants. The filters leave behind "good" minerals like calcium, magnesium and potassium. Unlike popular reverse osmosis systems that are expensive to install and maintain, Hydroviv filters connect easily and use a blend of filter media to deal with specific, local contamination issues.
The company got its start as a charitable endeavor. Roy, a self-proclaimed "water nerd," saw the trouble brewing in Flint, Michigan before the issue became a national story. He created Hydroviv to provide free filters to people in that community, an endeavor which continues to this day. If you want to connect one of these filters to your kitchen sink, it'll cost you $224.99. Replacement filters cost $65 or $55 if you sign up for their subscription service. Local water quality is re-assessed before filters ship to ensure they are up to date for local contaminants. Roy wants to expand his army of water nerds and wants a Shark to join him on his journey. Will a Shark want to swim in this filtered water?
Hydroviv Company Information
Video
Posts About Hydroviv on Shark Tank Blog
Hydroviv Water Filters – For Water Nerds Only
Hydroviv Shark Tank Recap
Eric enters seeking $400,000 for 10% of his company. He introduces his business and its background while handing out samples. When asked what he needs the money for, he says he wants to hire a full-time marketing person. Mark doesn't like that answer and wants to know what a marketing executive will do that Eric isn't already doing.
I relatively fast moving negotiations, Rohan Oza says reaching the target market is too tough; he goes out. Lori goes out next stating it's "too early" for an investor. Barbara doesn't like hearing entrepreneurs say they need help with sales and marketing – she finds those words "scary;" she's out too.
Mark, after listening for a while, has a change of heart and offers $400,000 for 20%. He says Eric is selling trust and he wants "to get you there." Eric accepts the offer.
Hydroviv Shark Tank Update
The Shark Tank Blog constantly provides updates and follow-ups about entrepreneurs who have appeared on the Shark Tank TV show. The deal with Mark never closed. Eric said "that the deal might not be the best thing for them." As for Eric and Hydroviv, they experienced an uptick in sales after the original air date and he predicts his company will "smash" their sales projection of $1.7 million for the year. As of August, 2022, the company is still in business and has annual revenue of $2 million.