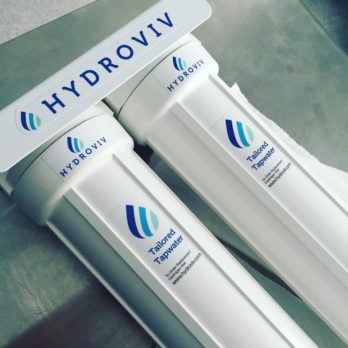 Hydroviv Water Filters were born in crisis. Founder Eric Roy started making their first water filters in response to the water crisis in Flint, Michigan. The company, still in start-up phase at the time, began shipping high capacity lead removal water filters to Flint residents for free in the summer of 2015 – before government officials acknowledged there was a problem.
Roy and his co-workers, plus a small army of people who monitor water quality nationwide are know as "water nerds." They monitor federal, state and local water quality reports religiously on a national basis. The reports are available on the Hydroviv's City Water Quality Reports page. It's this meticulous attention to water quality data that sets Hydroviv apart from other water filter manufacturers.
Roy and his nerds know that different cities have different water quality issues. Flint has lead contamination, New York City has Chromium 6 issues, and so on. Hydroviv specifically tailors its filters to deal with a locality's specific water quality issues. Other water filter companies sell a "one size fits all" filter. Hydroviv's solution is much smarter and more effective.
A water filter will cost you $224 from Hydroviv – that's for an under the sink or refrigerator filter. Their showerhead filter costs 75 bucks. Replacement filter cartridges cost $65 ($55 if you buy via their subscription program). They proudly manufacture their products in Washington, DC. Hydroviv is changing the way people think about water filtration. They likely want a Shark to help spread the word.
My Take on Hydroviv Water Filters
I myself am quite the water nerd. Last summer in Florida we had a huge water crisis come to a head and I became very involved in the clean water activism movement which gained national attention. We are using pitcher style water filters and were getting ready to install a reverse osmosis water filter system, but Hydroviv is making me reevaluate that idea.
I know we have some chromium 6 and a lot of phosphates in our water. Our county also uses chloramine to disinfect the water. Basically, our water sucks and I want to be able to get water from the tap instead of buying bottled water. I am going to give Hydroviv a long, hard look because I like their geographically tailored filtration solution. I am IN.
Will Sharks Swim in this Water?
Water quality, particularly drinking water, is going to be THE biggest issue in the next ten years. Filters and alternative sources of drinking water are already a big business. The bottled water industry – which is coming under scrutiny for its single use plastic waste – is a multi billion dollar industry. So is the water filter business.
The problem Hydroviv faces in the Shark Tank isn't the quality of its product or its sales. What will ultimately cause them to hear objections is the sheer volume of alternatives to their water filters. There are thousands of water filter manufacturers and standing out from the crowd requires a LOT of education. Often the Sharks don't want to be involved in things that require a lot of consumer education which could doom Hydroviv.
Mark Cuban is the only shark that strikes me as able to tackle a business such as this. If he likes it, I think he's the only Shark who will do a deal.