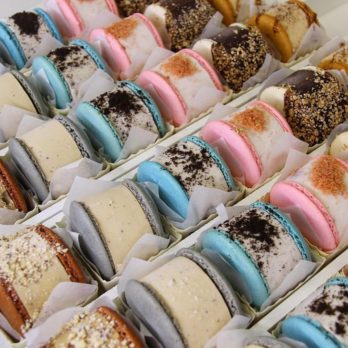 Gwen and Christine Nguyen didn't know anything about baking or food production when they started Maven's Creamery out of their parents' garage. Now, they have one of the hottest dessert items in southern California. The sisters are children of boat people. Their parents came to this country with nothing and now the sisters are living the entrepreneurial American Dream.
When they started the business in 2014, they used the internet to teach them how to make their Maven's Creamery products. In one year, they managed to get their products into a local dessert shop. That was a huge success – they sold out of 400 sandwiches in a few hours. By 2017, they had a commercial kitchen and started getting distribution in a lot of independent southern California shops. Last year, they struck a deal with Safeway supermarkets and now have product in over 300 locations.
For those who don't know, macaron cookies are a centuries-old, French dessert item.  The cookies are made with almond powder unlike their Italian cousins – macaroons – which are made with coconut. They stuff their sandwiches with premium ice cream for some decadent flavor combinations. A sandwich costs $6.25. Their success in California got them on Shark Tank for episode 1019. They'd like to duplicate their success on a national level, with a Shark's help.
My Take on Maven's Creamery
I like good ice cream, but I never really like macarons. I prefer a good chocolate chip cookie to a macaron or a macaroon. For me, they're too dry, though the ice cream probably mitigates that. I can't argue with their success. They managed to get a pretty good footprint for a consumer item in a short time.
People love Maven's Creamery, too. Reviews are mostly positive with the biggest complaint being the cost. There are almost no negative reviews on the quality of the product. While they sell them online, ice cream sandwiches are more of an impulse item, so I think they need to be in stores. I probably wouldn't buy them, but I wish them well.
Do Sharks Like Ice Cream Sandwiches?
Based on the network video promo, this looks like a bit of a tearjerker pitch. The women get emotional when talking about their parents' background. That said, the Sharks rarely invest on emotion, they want to see sales. Maven's Creamery must be making some money with 300 plus outlets, the question is are they making enough.
Any freezer or refrigerated product is a tough sell in the Tank. The logistics of storing and shipping product, not to mention store shelf space issue, will weigh heavily on the Shark's decisions. If the numbers are good, the only Shark I see bidding is Barbara. She likes specialty food businesses and can likely provide real value. I look for her to bid for 30-40% interest in the business.