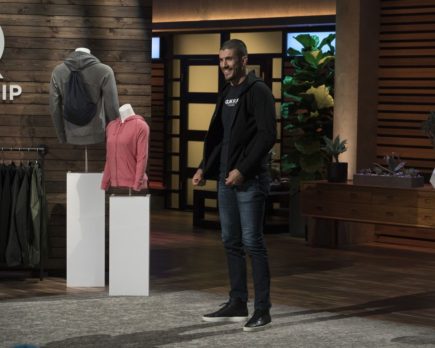 Rener Gracie hopes the Sharks flip over Quikflip, his hooded sweatshirt that transforms into a backpack, in Shark Tank's season ten finale, episode 1022. Gracie, a Jiu Jitsu professional instructor and fighter, became frustrated when running. He would start off a run with a hoodie, then have nowhere to put it when he got too hot to wear it. That's when he created Quik Flip.
Gracie is someone the Sharks wouldn't want to mess with on the streets. He comes from a long line of Jiu Jitsu fighters and teachers. His grandfather, Helio, once challenged world boxing champ Joe Louis to a fight. Louis declined. Rener's dad, Rorion, opened what would become Gracie University in 1989. The "university" is a Jiu Jitsu training academy where Rener also works as an instructor.
Gracie threw all the energy he puts into Jiu Jitsu into QuikFlip. He's appeared at many apparel conventions hawking his new invention. If he's as tenacious with QuikFlip as he is with his Jiu Jitsu instruction, success can't be too far away. He believes Quik Flip has "unlimited branding potential." He's also the first Brazilian Jiu Jitsu black belt ever in the Shark Tank.
Rener likely wants a Shark to help him with manufacturing. He IS the brand and will work hard to make QuikFlip a hit. Hopefully, a Shark will flip for it too.
QuikFlip Company Information
Video

Posts about QuikFlip on Shark Tank Blog
Quik Flip Convertible Hoodie Backpack
QuikFlip Shark Tank Recap
Rener enters the Shark Tank seeking $500,000 for 5% of the business. He tells how he got the idea, and gives his pitch, then he hands out samples. The Sharks like the quality of the sweatshirts. Rener has a patent on the clip that holds the backpack iteration of the product in place. His first order of 5000 units sold out in two and a half months and netted him $200,000.
Daymond likes the product, but doesn't think consumers will recognize the convertible nature of it on a clothing rack. Mark doesn't think he can add value; he's out. Kevin offers $100,000 for a 25% and a $400,000 line of credit. Robert offers $500,000 for 25%. Rener doesn't like these offers. Lori jumps in and offers $250,000 cash and a $250,000 line of credit for 10%. Rener accepts.
QuikFlip Shark Tank Update
The Shark Tank Blog constantly provides updates and follow-ups about entrepreneurs who have appeared on the Shark Tank TV show. The deal with Lori never closed. It's probably because after airing Rener saw a "MASSIVE sales increase." In 2019, the product was named one of Time Magazine's Best Inventions of the Year. The product is available in some retail outlets, including Wal Mart. As of 2021, the company is still in business with $4 million in annual revenue.