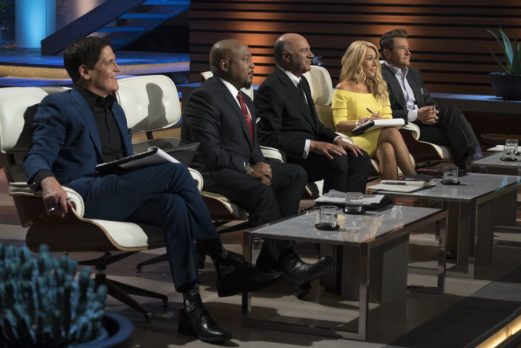 Episode 1022 is the Season Ten Finale. After tonight, it will be a summer of re-runs until season 11 begins in the fall. The final four season ten entrepreneurs will present their businesses to the Sharks as they seek cash and guidance.
Tony Armenti and Kevin Gabauer hope to start a feeding frenzy for the Fat Shack, their franchise concept that serves wings, burgers and "fat sandwiches." Paul and Pamela Mott hope a Shark bites on Coyote Vest, protective body armor for small dogs that keeps coyotes at bay during an attack. "Batrepreneurs" Harrison Broadhurst and Chris Rannefors want a Shark to help them with BatBnB, their line of bat friendly bat houses that feature elegant design. Brazilian jiu-jitsu black belt Rener Gracie wants the Sharks to flip over QuikFlip, his hooded sweatshirt that's also a back pack. Which business lands a Shark tonight?
Instead of an update segment tonight, we'll take a look back at ten seasons of Shark Tank in a whirlwind, mini retrospective.
The Sharks
---
Daymond John
Robert Herjavec
Entrepreneurs
---
Update Segment – A Look Back at Season Ten
There are 28 Shark Tank Episodes for Season 10. This season features more appearances by "guest Sharks," including billionaire Jamie Siminoff. The 200th episode also airs this season. Casting is currently closed, but it never hurts to get a head start on season ten! If you would like to appear on the show, check out our Auditions and Casting information.
Episode 1022 – The Shark Investors and Entrepreneurs
The Shark Tank Episode 1022 entrepreneurs will make their best pitch to the panel of five Shark investors who will use their own money if they choose to invest. The Shark Investors negotiate on the spot without any previous information, which differs from typical negotiations between venture capital investors and entrepreneurial start-ups.
Companies pitching the Shark Investors must go through a rigorous due diligence process before an on-air deal is completed. Shark Tank Blog follow ups help you keep track of the companies that end up successful and the ones that don't complete their deal.
Thank you for reading SharkTankBlog, the number one site for Entrepreneurs, Investors and Fans. Our content updates multiple times day, giving you the latest information on Episode 1022, Season 10, and all other seasons and episodes.
Episode 1022 Press Release
Shark Tank: SEASON FINALE
Episode 1022 (5/12)
SEASON FINALE
THE SEASON FINALE OF ABC'S 'SHARK TANK' DEBUTS SUNDAY, MAY 12
"1022" – First into the Tank are entrepreneurs from Fort Collins, Colorado, who present their fast-casual restaurant focusing on late-night food done right. Entrepreneurs from Lexington, Kentucky, pitch their line of designer bat houses for an effective natural solution to pest control. A husband and wife duo from San Diego, California, introduce their stylish product that keeps your pet safe from predators. Last into the Tank is a world-renowned jiu jitsu instructor from Torrance, California, who solves a problem that we never knew we had with his dual fashion design, on the season finale of "Shark Tank," SUNDAY, MAY 12 (10:01-11:00 p.m. EDT), on The ABC Television Network, streaming and on demand.
The Sharks in this episode are Mark Cuban, Kevin O'Leary, Lori Greiner, Robert Herjavec and Daymond John.