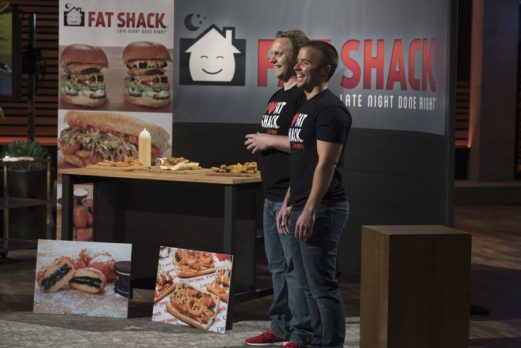 Tony Armenti and Kevin Gabauer hope there's a feeding frenzy for Fat Shack, their franchise fast casual restaurant concept, in episode 1022, the season ten finale. Fat Shack sells burgers, cheese steaks, wings, shakes and their signature Fat Sandwiches. The sandwiches are decadent combinations like the "Fat Cow," which has mac'n'cheese, bacon, french fries, mozzarella sticks & buffalo ranch dressing. There are fourteen Fat Sandwiches on the menu and, yes, they are fat!
Armenti started the business in 2010 after graduating college to provide late night food options to the town of Ewing, New Jersey. He only had $5000 to start the business, so he partnered with a local bagel shop that only opened for breakfast and lunch. When they shut down for the day, he'd re-open and operate the Fat Shack from 6 PM to 4 AM. He had to store his food in his garage at home and was constantly schlepping food from there to the bagel shop. After a while, that relationship became strained, so he searched for another solution.
In August 2011, Tony packed up his life and moved to Fort Collins, Colorado where he opened his first stand alone restaurant. The place was an instant hit and he found he needed some help. He called his old college buddy Kevin Gabauer and persuaded him to leave his corporate job and move to Colorado. Within six months, the pair opened a second location in Boulder. In In February of 2015, they opened the first Fat Shack franchise in Denver. Now, they have 13 locations in Colorado, Texas and Washington state.
It's clear these two know what they're doing. They likely want a Shark to help them expand their franchising. The question is, do Sharks like fat sandwiches?
Company Information
Video

Posts about Fat Shack on Shark Tank Blog
The Fat Shack Franchise Opportunity
Fat Shack Shark Tank Recap
Tony and Kevin enter the Shark Tank seeking $250,000 for 7.5% of their business. They tell their story and give their pitch, which includes the construction of one of their monster sandwiches. The guys then serve the Sharks some samples. They like the food and the sales numbers: $22 million in lifetime sales. They have 11 locations, 9 of which are franchises. All the franchises are profitable. They say they aren't making as much on franchising royalties, which concerns the Sharks.
Kevin offers $250,000 for 25%. Daymond offers the same and Robert offers $250,000 for 17%. Mark likes the guys and the numbers but he doesn't like the unhealthiness aspect. He likes investing in healthy foods. Despite that, he offers $250,000 for 17%. Daymond comes down to 17% too. With three Sharks in at 17%, the guys ask Mark if he'll go to 15%. He agrees and they do a deal.
Fat Shack Shark Tank Update
The Shark Tank Blog constantly provides updates and follow-ups about entrepreneurs who have appeared on the Shark Tank TV show. The deal with Mark closed and the company grew quickly. After the original air date, they fielded over 3000 franchise requests. When they first aired in the Spring of 2019, they had 11 stores. By July, 2020, they had 20 – despite the global Covid-19 pandemic. By June, 2021, they were up to 23 stores in 11 states: Illinois, Washington, Oregon, Nevada, Kansas, Missouri, Colorado Pennsylvania, Tennessee and Georgia. As of March, 2022, they were up to 29 stores in 13 states. Florida and Maryland locations were added. As of April, 2023, they were up to 32 locations. Each store generates revenue in excess of $1 million per year.