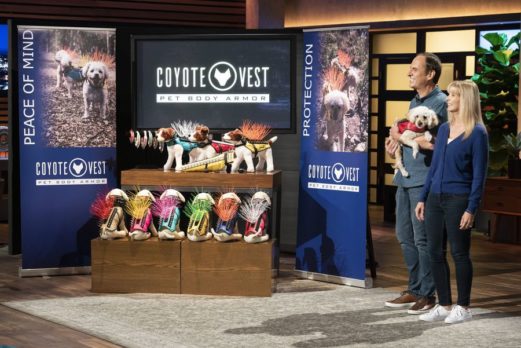 Paul and Pamela Mott seek an investment for their Coyote Vest, protective wear for dogs, in Shark Tank episode 1022. The Coyote Vest is kind of like body armor for small dogs that will protect them from a coyote attack. It's made of Kevlar and has hard plastic spikes around the collar, down the length of the torso and along the center from the neck to the rump. Since the spikes are plastic, they won't hurt the coyote and it will give a dog owner time to intervene.
The Motts started the business in 2015 in response to their own personal tragedy. Paul was walking his dog off leash at a dog park and he heard a loud yelp. He turned to see his dog Buffy in the jaws of a coyote. The coyote fled and Buffy was never seen again. After the attack, he started designing the first vest. Mott is convinced his invention could have saved her.
Punk Rock Pups
The vests have been called "Mad Max-ian," and they make dogs look like "punk rock porcupines." The basic vest costs $99.95. There are add-on products like the Hawk Shield which adds extra Kevlar on the back to prevent attacks by birds of prey. You can also buy extra spikes and bristles for further protection and there's even an electric zapper add-on. This vest accessory features a remote control that allows the dog owner to zap an attacking coyote. There are even vests for cats.
There are dozens of testimonials on the company website about dogs being saved by the vests. With coyotes becoming more and more present in suburban and urban areas, this seems like a good solution for dog owners. The Motts currently sell on their own website and in seven small, independent pet stores. They likely want a Shark's help to build inventory and get into major pet retailers. The question is, will the Sharks bite on this?
Coyote Vest Company Information
Video

Posts about Coyote Vest on Shark Tank Blog
The Coyote Vest Protects Small Dogs from Attacks
Coyote Vest Shark Tank Recap
Paul and Pamela enter the Shark Tank seeking $250,000 for 10% of their business. They tell the story about Buffy and give their pitch. They want the cash to build inventory and get manufacturing costs down. To date, they have $260,000 in sales The Sharks all think it's too niche and nobody makes an offer.
Coyote Vest Shark Tank Update
The Shark Tank Blog constantly provides updates and follow-ups about entrepreneurs who have appeared on the Shark Tank TV show. The company is still in business and sells direct from their website. As of September, 2022, the products are available at a dozen mom and pop shops across the USA and they are doing $1 million in annual revenue.