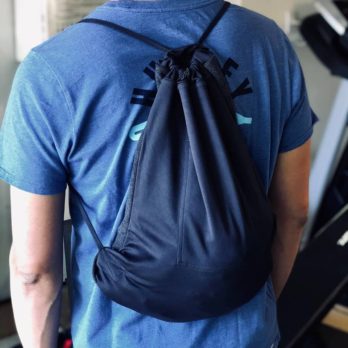 Quik Flip is a hooded sweatshirt that transforms into a backpack and vice versa. Creator Rener Gracie invented QuikFlip to have a way to carry a hoodie once he was too hot to wear it anymore. Gracie isn't an apparel person, he's a Brazilian jiu-jitsu black belt who comes from a family of jiu-jitsu instructors and fighters.
His first entrepreneurial venture was joining the family business started by his father, Gracie University. He's best known for his "Gracie Breakdowns" Youtube videos where he teaches jiu-jitsu moves. The University is a global enterprise offering in person and distance learning instruction as well as law enforcement and military training.
That experience, combined with his boundless energy, led him to sell Quik Flip aggressively at many apparel trade shows. Next, he wants to snag a Shark to help him on his journey when he pitches in the final segment in season ten. He's got a big following in the jiu-jitsu world and he hopes to parlay that into a successful business with Quik Flip.
My Take on Quik Flip
Quik Flip is more than just convertible hoodies. There are crew neck varieties, zippered and non zippered versions and rain jackets. They come in men's, women's and kids' styles. They are a bit pricier than a standard sweatshirt, but not so much so as to scare people away.
I particularly like the QuikFlip rain jacket model. In Florida in the summer, it can rain anytime. Having a rain jacket handy would be very convenient. I'm not sure how much stuff you'd want to tote in it because if you unfolded the backpack to wear the sweatshirt, you'd need a place to stow your stuff. It's no Man Pack, but I suppose it's good for a water bottle or a phone, but not much else. Regardless, I like the idea and the sweatshirts and jackets look functionally stylish.
Will the Sharks Flip?
Gracie has a very big personality and may be known to some of the Sharks already. Obviously, Daymond is the target for anyone pitching clothing in the Tank and Daymond will likely have lots to say about this business. It really depends on what Gracie wants from the Sharks. He seems to have a fair amount of resources at his disposal, so it's got to be more than money.
Gracie likely wants the cache of having a Shark as a partner. He is "all in" on QuikFlip, so it's doubtful the SHarks will accuse him of spending too much time on his other ventures. If he offers a good valuation, I expect Robert, Daymond and Lori to bid. Kevin and Mark may bid too, but I think he does a deal with Robert in the end.