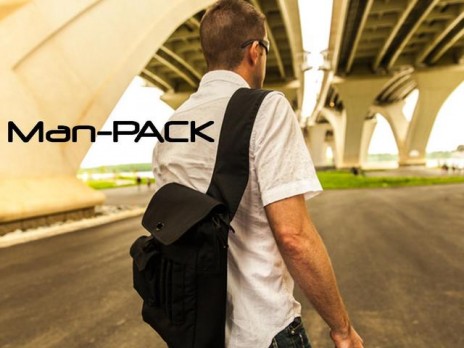 Aaron Tweedie, an Army veteran and contractor from  Front Royal, Virginia, pitches Man-Pack – a "masculine" carrying bag – in the military-themed Shark Tank episode 608. Tweedie wanted a durable backpack that was durable enough for a construction site, fashionable enough for regular use, yet wouldn't attract derision for not being "manly" enough. When he couldn't find what he wanted, he decided to create Man-Pack and the business was born.
The Man-Pack is essentially a backpack/satchel aimed at guys. It's rugged enough for outdoor use yet stylish enough to bring to the office. It's a heavy-duty, canvas pack that has a main compartment for files books, or laptops; a beverage holder; utility pockets for wallets, cell phones etc; and an exterior pocket for holsters and other gear. There's even a bullet proof insert available for the Man-Pack!
Tweedi got his project off the ground in the summer of 2013 when he successfully raised $47,404 on Kickstarter – he was asking for $40K. Now that he's proven the Man-Pack concept, he's looking for a Shark to help him get to the next level. Will a Shark pack it in and invest?
Man-Pack Shark Tank Recap
Aaron enters seeking $200K for 29% of the company. He explains how much stuff guys need to carry and demos all the ways it can be worn and all the things it can carry. He says he wants to make men more prepared. Lori said she was wowed by the product's utility. Aaron hands some out. Last year he sold $76K and he's on track for $150K plus this year. Mark calls it a "millennial murse." Robert thinks people will laugh at him.
Mark wants to know what he sold last month, Daymond wants to know where the valuation comes from, the Sharks aren't buying his explanation. Mr. Wonderful says he'd need 260% of the company to invest, he's out. Mark likes Aaron, but not the business – he's out too. Daymond questions Aaron's financial intelligence and he goes out. Robert doesn't want to go on the journey with Aaron and he's out. Lori thinks there is too much competition in the laptop backpacks for men "space" and she's unsure of the market, she's out too.
RESULT: NO DEAL
Man-Pack Shark Tank Update
The Shark Tank Blog constantly provides updates and follow-ups about entrepreneurs who have appeared on the Shark Tank TV show. This business is still open as of May, 2022 and has an expanded product line including concealed carry and bullet proof products. As of January, 2023, annual revenue is $3 million.
Posts About Man-Pack on Shark Tank Blog
Man-Pack Information
Video