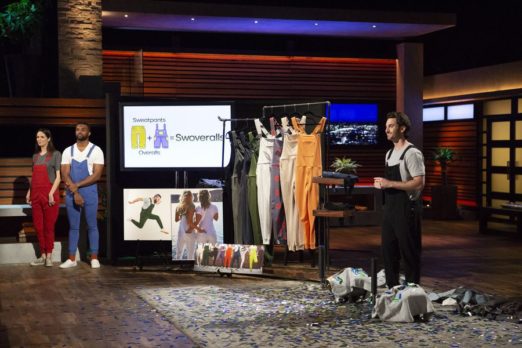 Kyle Bergman (aka the Great Fantastic) hopes to find a fit for Swoveralls, his overalls made with sweatpants material, in Shark Tank episode 1019. Initially, Bergman just wanted a pair of overalls from sweatpants material for himself. He found some in women's styles, but not for men. Once he made himself a pair, he realized he had an opportunity.
As a fashion industry veteran since 2012, he used his skills and connections as a buyer for Bloomingdale's and Birchbox to get things going. Bergman really leveraged the power of crowdfunding to get Swoveralls off the ground. He ran a successful Kickstarter campaign that raised $75,461 and an IndieGoGo campaign that raised $108,396 back in the summer of 2018. He also raised a little over $75,000 on Backer Club. With that seed capital, he got the business rolling.
Swoveralls come in styles for "dudes and dudettes." Available in a variety of wild colors and patterns, a pair will set you back $95. There's an interior pocket for valuables and they come in warm weather and cold weather styles. He wants to build a sustainable and ethical business, so he sources from sustainable suppliers and gives support to 1% for the Planet, Israel Lacrosse and Urban Pathways. Even with his fashion industry connections, Bergman knows a Shark can help him with broader distribution (and cash). Will a Shark want to don these togs?
Swoveralls Company Information
Video

Posts about Swoveralls on Shark Tank Blog
Swover Alls – Sweatpant Over Alls
Swoveralls Shark Tank Recap
Kyle enters seeking $150,000 for 15% of his business. As he tells his story and hands out samples, he claims $230,000 in total sales. He wants the money from a Shark to invest in more inventory and to move into kids and youth sizes.
Unfortunately for Kyle, the Sharks think that there isn't enough consumer interest, despite the great margins and solid sales. They think it's a fad that will pass and one by one the Sharks go out.
Swoveralls Shark Tank Update
The Shark Tank Blog constantly provides updates and follow-ups about entrepreneurs who have appeared on the Shark Tank TV show. In July, 2019 – four months after the initial air date, the business is still open. Kyle revamped his website a bit, but is still offering his product on a pre-order basis with a 6-8 week delivery window. It looks like he really needed the Shark's cash for inventory!
By late 2019, Kyle appears to have worked out his inventory issues. Also, he implemented "The Comfy Lab" on his website which is a micro crowdfunding platform. He offers customers who pre-order limited edition designs a 20% discount.  He also introduced Swovie Shorts, Kids Swoveralls. There are plenty of in stock items, too. In 2020, he started making and selling masks for the Covid-19 crowd. As of December, 2021, he's still in business and has annual revenue of  $4 million.