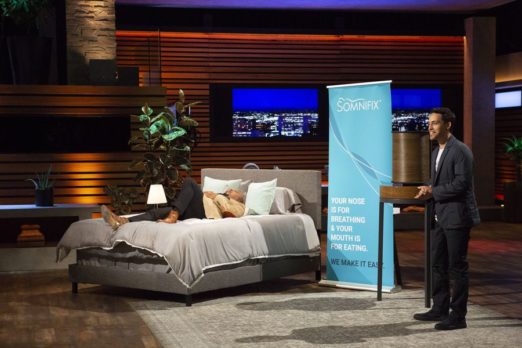 Nicholas Machalak wants the Sharks to wake up and invest in Somnifix, his mouth strips that reduce snoring, in Shark Tank episode 1019. Somnifix was created by Nicholas' father, Andre – a Doctor and "champion snorer." He patented his solution and wants his son to find a Shark to help quell the noise of the millions of snorers everywhere.
The product is sleep strips that tape your mouth closed while you sleep, redirecting air flow through the nose. This reduces mouth snores, dry mouth and improves sleep quality. It works alongside CPAP machines and nasal pillows too. By closing the mouth during sleep, this causes the tongue to naturally rest on the roof of the mouth which keeps nasal passages open. Without a Somnifix, the jaw can drop while sleeping, causing the tongue to cover your airway which results in snoring.
A box of single use, recyclable strips will set you back eighteen bucks. They're available on Amazon and the company website. Not everyone can use them though. If you have nasal breathing difficulties, are obese, have chapped lips, low blood pressure, have a cold, have sleep apnea or you've been drinking, you should not use Somnifix. Reviews on Amazon are mostly positive and people get real relief from this product.
Nicholas likely wants a Shark to help with distribution and with cash for inventory. Will a Shark like this company or think it's a snooze?
Somnifix Company Information
Video

Posts about Somnifix on Shark Tank Blog
Somni Fix Mouth Tape Curbs Snoring
Somnifix Shark Tank Recap
Nicholas enters seeking $500,000 for 10% of his business. He tells his story and hands out samples. Nicholas tells how his father invented the mouth tape when he was diagnosed with sleep apnea. Since then, the family invested $1.4 million in developing the product and conducting a series of clinical studies at Harvard. They also hold 9 patents in over 70 countries.
Despite all the money they poured into the business, they only have $350,000 in sales in 9 months in business. The Sharks like the margins – just under 50% – and they like Nicholas, but they fear how the market might react to the product. Mark is the only interested Shark since he thinks it could help with athletic performance, but he thinks the business needs a major marketing makeover. He offers $500,000 for 20% and Nicholas accepts.
Somnifix Shark Tank Update
The Shark Tank Blog constantly provides updates and follow-ups about entrepreneurs who have appeared on the Shark Tank TV show. As of the rebroadcast in July, 2019, Mark doesn't list Somnifix as one of his Shark Tank businesses on his website. The company now ships product to the USA, Canada and Europe and they have a robust presence on Amazon. The deal could still close, but it hasn't yet.
As it turns out, the deal with Mark did not close. As of September, 2022, the company is still in business. The products are now available in CVS, Wal Mart and Amazon. Annual revenue is $3 million.