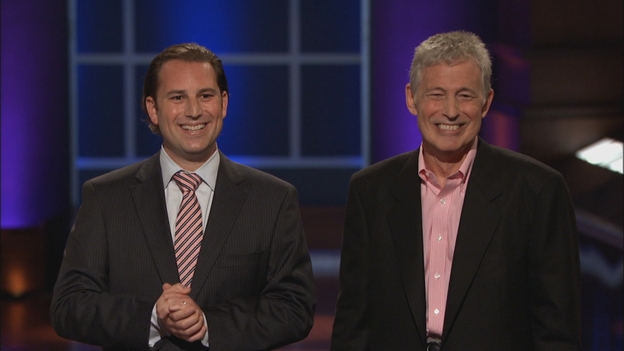 Brandon and Keith Marz present Marz Sprays Vitamin Oral Sprays to the Sharks in episode 405. The father and son team developed the line of products for people who want to take vitamins and supplements without swallowing pills. Because the vitamins are delivered in a liquid, spray form, the body absorbs them faster. Marz sells a vitamin C spray, a sleep aid spray, an energy spray, a kids vitamin spray, and a weight loss spray. All products are patented (or patent pending) and trademarked. Brandon and Keith conducted independent clinical studies on the sprays too. They claim to have pending purchase orders for over $1 million and a potential licensing deal with Nature Made.
Marz Sprays Shark Tank Recap
Brandon and Keith enter seeking $200,000 for 10% of their business. Mark thinks Marz is a scam, and even when Keith tells him they have the 'first mover' advantage, Mark goes out. Daymond thinks it will be too difficult clearing the sprays for sale in foreign countries, so he's out. Robert isn't a supplement person, so he's out too. Lori likes the products and offers $200k for 30%, contingent on a deal with Nature Made. Kevin offers to partner with Lori, but she doesn't want to; Kevin the offers $200K for 25% and Lori matches the offer.
Brandon and Keith confer and counter Lori with $200K for 25% with a "redemption option."  They say they'll accept her offer if she gives them an option to redeem half her stock at four times the purchase price. Lori agrees and she partners with Brandon and Keith.
Marz Sprays Shark Tank Update
The deal with Lori ultimately never closed. Marz has expanded its distribution internationally by selling direct to consumers online, through retailers and distributors, and through TV commercials. They are still exploring private label opportunities in both the US and abroad. Marz begins rolling out to big box retailers in the first and second quarters of 2013. The business gets an update segment in episode 522 in season 5. They'll reveal nationwide distribution in Walgreens and Hudson News, plus give an update on international sales.
In 2014, they shipped $100,000 worth of product to Walgreens and the company refused to pay. They were forced to sue and prevailed. They eventually got on the shelves at Wal Mart. The company also redesigned their packaging. By 2020, they had product in over 20,000 stores.
The company didn't have the meteoric growth originally projected, but as of January, 2023, they have annual revenue of $4 million.
Posts About Marz Sprays on Shark Tank Blog
Vitamin Oral Sprays Pioneer Brandon Marz Interview
Marz Sprays Vitamin Oral Sprays by Keith Marz
Company Information