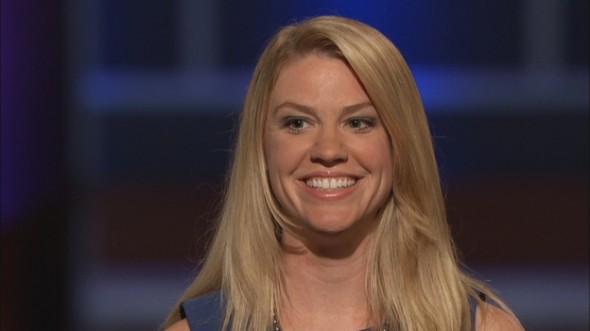 Cozy Bug Entrepreneur Aly Lessor creates pillow case dresses, or rather pillow case dress inspired dresses. Pillow case dresses have been a crafters staple for years, particularly in the South. Women have been making pillowcase dresses for years, Aly just took the idea, made it more upscale and fashionable and started selling her Cozy Bug dresses on Zulilly and eventually on her own website. Cozy Bug dresses are named after Lessor's daughter and feature bright colors and vibrant patterns. The dresses cab grow with the child due to the adjustable ribbons. Aly is also developing a line called Dance Bug. The company donates a portion of their profits to buy livestock for poor African villages and to help African women who have been victims of violence.
Cozy Bug Shark Tank Recap
Aly came into the Shark Tank seeking $50k for 25% of her business. She claims she sold $300K worth of dresses in a month. Cozy Bug dresses cost just $6 to make and retail for $28-$40.  Aly also sells dress accessories. Mark thinks she's trying to do too much and should focus on the dresses; he's out. Robert isn't a fashion guy and can't bring anything to the table; he's out too. Mr. Wonderful offers $50K for NO equity, but he wants a $2 royalty per dress until he's repaid, then $1 per dress forever.
Lori offers $50K for 30% and says she'll make Aly a millionaire. Daymond matches Lori and tells Aly his fashion experience is more value. Daymond and Lori battle back and forth. At one point, Lori writes a check on the spot and threatens to rescind her offer. Aly opts for partnering with Daymond and leaves the Tank with a deal for Cozy Bug.
Cozy Bug Shark Tank Update
In the months following this show, there was virtually no news about Cozy Bug. The website continued to sell dresses and they were available occasionally on Zulilly, but there was no post Shark Tank hype. The company Facebook page is bare, they Twitter page hasn't tweeted once, and the website, which looks like it was re-vamped a bit, had no news about Shark Tank at all – until Aly appeared on a CNN News "Making it in America" segment on February 21, 2013. She told viewers how the company was growing with it's new partner, Daymond John. Daymond and Aly appeared on the View together on February 22, 2013, so it looks like they're moving forward. Since then, the company website got completely overhauled and Shark Tank references are everywhere.
In an episode 712 update segment, Daymond hosts Bombas, MySelf Belts, Sun-Staches, and Cozy Bug at an entrepreneurs workshop about increasing internet sales. Celebrity chef Rocco DiSpirito is cooking for the group and giving advice on social media. He says businesses have to engage fans constantly to increase sales. They share a gourmet meal and Daymond says these businesses have combined sales of over $11 million since appearing on Shark Tank. He thinks they are all going to an entirely new level.
Aly and Daymond continue to move forward as Cozy Bug dresses are now available in WalMart and on Overstock.com.
Aly moved on from the business in October, 2015 and started Mom365, a newborn photography business with a network of over 1900 baby photographers nationwide.
Posts About Cozy Bug on Shark Tank Blog
Company Information
Cozy Bug on The View