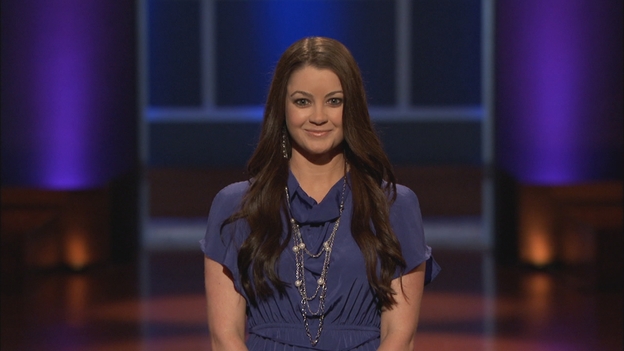 The Spatty was created by Cheryl Rigdon when she got tired of wasting make-up that got stuck in bottles and jars. Her frustration led to creating a make-up spatula uniquely designed for scraping out the last bit of make up. She presented the Spatty to the Sharks in episode 405. The product was originally designed for make-up, but you can use it to scrape out the last bit of mustard from a jar too. The Spatty Daddy is a bigger version of the product, for larger containers. What Cheryl has in the Tank is only a prototype, so there are no sales and no real numbers. At this stage, it is still an idea.
The Spatty Shark Tank Recap
Cheryl came into the Shark Tank seeking $50k for a 40% share of the business. The Sharks LOVE the name; they all keep laughing at it – but in a good-natured way. The Sharks unanimously agree that it's a useful product. Mr. Wonderful doesn't think Cheryl has a plan to distribute the product; he's out. Mark doesn't want to spend the time to help Cheryl build an entire business; he's out too. Robert isn't sure if it will be a huge success or a dud, so he goes out. Daymond quickly follows Robert. Lori loves Cheryl, but thinks she should distribute it as a promotional product to sell with make-up, so she's out too. Daymond still offers to help, gives Cheryl his phone number and offers to introduce her to some make-up companies.
The Spatty Shark Tank Update
Cheryl was a very popular Shark Tank entrepreneur and the Spatty was popular with viewers. She took a TON of "pre-orders when episode 405 initially aired. The first production mold and prototype run were done in early November, 2012. Full production of sellable product was completed shortly thereafter. Fellow Shark Tank entrepreneur Mona Weiss (Eco Nuts) advised Cheryl about getting into the 2013 Academy Award Gifting Suite and Cheryl handed out Spattys to the stars in early March, 2013. She now has it in full production and available for purchase on Amazon.
Daymond also made good on his word to give Cheryl a hand. In fact, he ended up mentoring her and steering her towards licensing deals.
A few years later, she has her products in Bed Bath and Beyond, Wal Mart and Target. As of 2020, she is in negotiations to get into more retailers. She also plans themed Spatties (Christmas, Halloween etc.) and a metallic version. As of January, 2023, revenues are $1 million per year.
Posts About The Spatty on Shark Tank Blog
Cheryl Rigdon Spatty Inventor Update and Interview
Company Information