The Spatty dips in the Shark Tank this Friday night on ABC. Created by Easley, South Carolina resident Cheryl Rigdon, the Spatty is a spatula-like tool specifically designed for removing the last bit of make-up, lotion, even condiments, from bottles and jars. If you've ever tossed away a bottle or jar that still had plenty of product inside and wished you could get the stuff that sticks to the sides or is too tough to get out because of odd-shaped containers, then the Spatty is just the thing for you.
What does the Spatty do?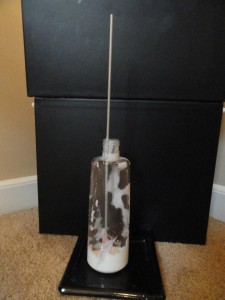 As you can see from the photo, The Spatty allows you to get into a container and scrape out that last bit of product, so there's no waste. The Spatty can be used for anything from hand cream to mustard. It's companion product, The Spatty Daddy, is a larger version for bigger containers.
The invention is a true "necessity is the mother of invention" type of product. Cheryl Rigdon got frustrated one night while applying make-up. She was down to the last bit in the jar and just couldn't get it out. She finally gave up, but she started searching for a product to scrape stuff out of make-up bottles; there wasn't anything, so she made one! Her husband came up with the name "Spatty" because it looks like a mini spatula. The idea for a larger Spatty Daddy followed.
Both Spatty products could save consumers a considerable amount of money. Who hasn't thrown out a bottle or jar with product still stuck inside? Imagine how much money you could save if you could get the last bit out?  Since it will be USDA-FDA approved, it's OK for food too. I have always had a love/hate relationship with Gulden's Mustard. I love the stuff, but it comes in this crazy shaped jar that you just can't get all of it out- it drives me NUTS! With a Spatty (I WANT ONE), I could get every last bit of Gulden's out of the jar. I think this is a great idea!
Cheryl Rigdon initially was marketing the Spatty on Edison Nation, and she applied to be on the Shark Tank. She was chosen to appear and taped her segment in July. The Spatty is currently hand-made and is not available for purchase, but that could change very soon if Ms. Rigdon is successful in her Shark Tank pitch.
Will the Sharks bite?
This is one of those common sense, "why didn't I think of that" inventions that comes along and makes you wonder why someone didn't invent it a long time ago. The business is in start-up mode, so they won't be able to demonstrate sales. Their patent is pending, but if they have a good patent attorney working for them, this shouldn't be a huge issue. It is going to be a pitch where the sharks must like the idea, see the potential, and like Rigdon on a personal level. Valuation is out the window on this deal, it's a purely speculative venture.
This seems to have Lori Greiner written all over it. It's a low cost item that is easily mass produced, it would fit well with the many cosmetic items sold on QVC, and it's a product easily demonstrated on TV. Lori could bring a lot of value to the Spatty. They are taking "pre-orders" and they state "Spatty and Spatty Daddy are currently being mass-produced." This tells me someone partners with them. I wouldn't be surprised to see the Spatty on QVC Saturday morning. I am "IN!"