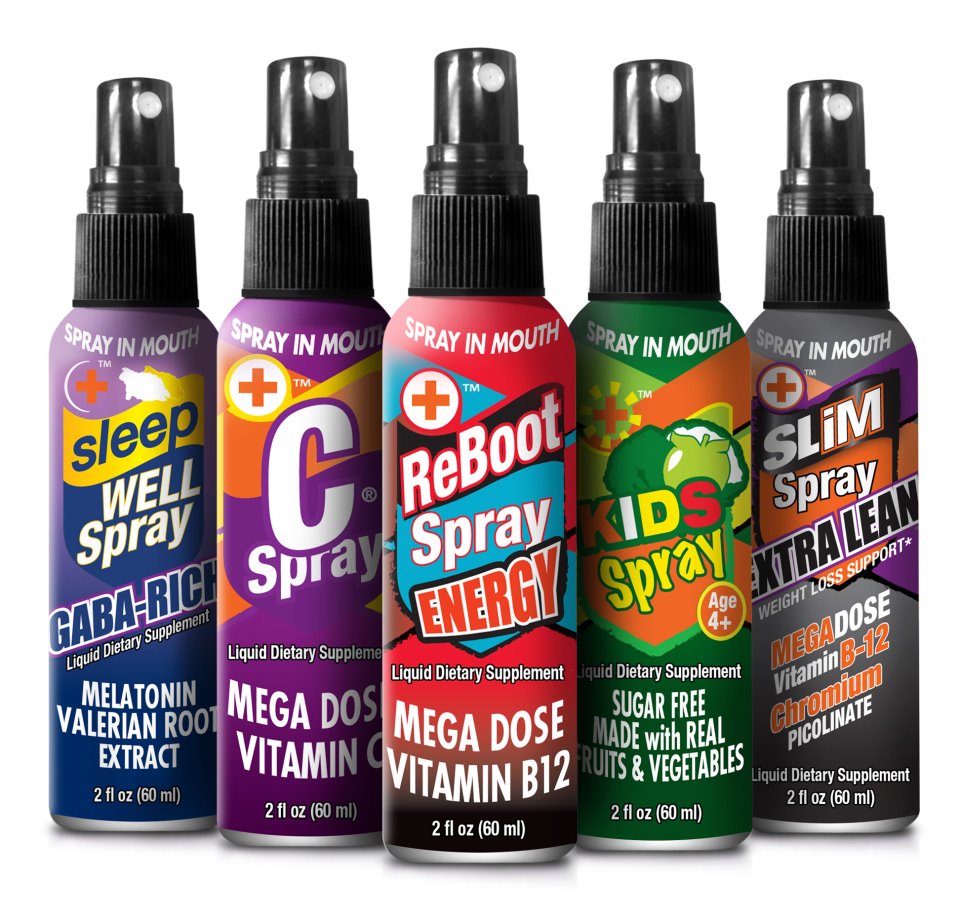 Marz Sprays vitamin oral sprays spritz into the Shark Tank Friday night. Entrepreneur Keith Marz started the business a little over two years ago to meet the market needs of people who don't like swallowing pills, yet still want nutritional supplements on a regular basis. "We felt it was important to offer consumers an easy, portable alternative to take their vitamins that does not involve swallowing large pills," says Keith Marz, co-founder of Marz Sprays.
What does Marz Vitamin Oral Sprays do?
Essentially, Marz Sprays are liquid vitamins that come in a spray bottle – hence the term "vitamin oral spray." Because the vitamins are in  liquid form, they are absorbed by the body faster than a pill or powder. The Marz Sprays website claims over 100 million people have difficulty swallowing pills; the idea first came to Mr. Marz from his two boys who refused to swallow pills. The product portfolio covers multiple verticals,  including Weight Loss Support, Vitamin Supplements/Immunity, Energy, Sleep Aid and Kids Vitamins. Keith Marz has been making the Slim Spray for a number of years in conjunction with weight loss centers. The good feedback and results led him to develop the full line of vitamin oral sprays.
Will the Sharks Like it?
All their products are patent pending and a review of their patent and trademark filings show they are diligently pursuing both avenues of brand and product protection. The store displays for Marz Sprays are depicted in several languages on their Facebook page and the full line of sprays is available for sale on Amazon.
Marz Sprays appears to have all their ducks in a row. Patents, trademarks, distribution, even many celebrity endorsements have all been obtained prior to their swim in the Shark Tank. The fact their packaging is shown in different languages indicates an intended global presence. Pricing for the various vitamin oral sprays indicate each spray bottle is $20 or less (about a month's supply) with the exception of the Slim Spray – a product designed to reduce food cravings for those seeking to lose weight – which sells for $30. While this may seem pricey initially, Marz claims the cost of one bottle is comparable to purchasing individual supplements. For instance, one bottle of the ReBoot Energy Spray equals 30 bottle of 5 Hour Energy. The products are all kosher, gluten-free, lactose free, and sugar-free.
The Sharks will want to see sales for a product like this. Nutritional supplements, whether in the form of pills, powders, or oral sprays, is a huge and competitive market. My guess is Marz Sprays is looking for cash to fund expanded distribution or to produce a large order for a big retailer waiting in the wings. The vitamin sprays are currently sold on Amazon and through the company's website. The ABC press release for this episode states "he Sharks appear more feisty than usual after a father and son from Van Nuys, CA provide them with a sample from their line of vitamin oral sprays." Whether the Sharks are feisty because they've just tried the ReBoot Energy Spray  or because they are fighting over who will fund Marz Sprays remains to be seen.
If Marz Sprays has decent sales, I am "IN!"