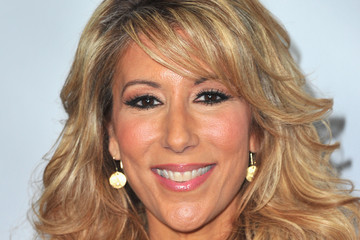 The first Lori Greiner Reddit "AMA" (Ask Me Anything) was one of many media splashes the Queen of QVC made in the week leading up to her season 4 debut in the Shark Tank. Lori Greiner was a huge hit in the Shark Tank's third season, so much so the producers brought her back as a full-time shark for season four. For the past week, there has been a bit of a Lori "PR Tour" both on and off-line. The Queen of QVC knows how to get her fans pumped for her premiere appearance on tonight's show.
The biggest online splash she made was her first Lori Greiner Reddit  live chat on Wednesday, October 3.  For Lori Greiner,  Reddit is a format many friends use to communicate and they urged her to give it a try. On Wednesday, October 3, Shark Tank fans queued up to ask Lori questions about the show. Despite suffering an arm injury suffered playing golf  (she claims she didn't take care of it right away and it got worse), Lori pounded the keyboard, fielding questions for several hours; she even returned to the chat after a short plane flight! Lori Greiner strikes me as the type of woman who doesn't let "little things" like injuries or travel get in the way of connecting with her fans and fans of the Shark Tank.
Lori Greiner Reddit AMA fields fan questions online
As with any AMA chats on Reddit, there are many superfluous comments and questions;  some humorous, and some downright mean and distasteful. Lori handled the chat session with aplomb. Posting as "Shark Lori Greiner," she tactfully avoided and/or disarmed crude questioners and answered Shark Tank related questions  in a fast and furious session. She even fielded a marriage proposal, telling the would-be suitor who wanted to marry her for her money to "take it up with my husband." The young man who asked the question replied "I'll send him my tuition bill!"
There were, as could be expected, many questions about the Shark Tank during the Lori Greiner Reddit chat. In one foreshadowing exchange, someone asked "what is the worst VC investment you have ever made?" Lori replied "ask me in a few months." I am willing to bet she invests in a company this season that bombs; she's just waiting for the episode to air. I hope she didn't write a check! To date, her worst investment was the Wine Balloon because it "never came to fruition," and her best deal was ReaderRest. She claimed it, "hit 3 million in sales in less than a year…and still growing. And we're already launching new items."  She did say the worst product she has seen in the Shark Tank so far was "the Boob Pillow."
While ABC claims Lori and Barbara Corcoran will never appear on the show together, fans are clamouring to see the two successful woman entrepreneurs on the panel at the same time. Both Lori and Barbara have publicly stated they never appear together, but those statements were made prior to the most recent taping session.  Rumors are flying speculating that the two female sharks will appear together on air next spring. It is somewhat telling that she did NOT respond to the question:  "How do you feel about the fact that you and Barbara are never on the same episode?"
Lori Greiner Reddit on valuations and patents
Valuations are always a big part of the interplay between the entrepreneurs and the sharks. Sometimes entrepreneurs over value their businesses to the point of absurdity and sometimes the sharks under value businesses to the point of outright theft. Lori  offered her perspective during the chat: "I think a fatal mistake is over-valuing a company especially with no sales or anything to back it up. It turns off all of us Sharks. Give us fair valuations. Look at your company realistically, put yourselves in our shoes, and ask how much money would I give to this company and what would be a fair percentage of what I should get back in return." Sound advice for future would-be Shark Tank entrepreneurs.
Lori Greiner holds over 400 patents, so she is obviously a fan of patent protection. During the chat she claimed having a patent for a product being pitched is a big plus. She proclaimed, "It definitely helps to have a patent! I LOVE patents as you know…..Love having armor and protection!" Lori does not, however like "patent trolls," people who file patents for products for the sole purpose of suing people who infringe upon their design. As for entrepreneurs with an idea that needs to be developed, potentially into a patented product, she suggests using a reputable product development firm and signing an airtight non disclosure agreement.
Humor in the Shark Tank
Any time you have an open, unedited discussion online, there are bound to be some humorous exchanges, and the Lori Greiner Reddit AMA  was no exception. One Redditer said, "On last Fridays episode, Daymond used the term 'YOLO.' Please tell him to never say that again." Lori replied, "I'll make sure to let him know all of Redditland will descend upon him should he ever utter YOLO again! Just watched a sneak peek of Friday's show, and I can promise it's YOLO-free. So Reddit, you best be tuning in!" In another exchange,she was asked, "Would you rather fight a horse sized Kevin O'Leary, or a hundred duck sized Kevin O'Learys? " She replied, " I would rather fight a horse sized Kevin – I can take him down."
Despite all the in fighting that appears on-screen, Lori says of her fellow sharks, "I like them all, different things about each. Daymond cracks me up, he is hilarious; Robert is a pal and defender; Kevin is also hilarious – I call him Big Shark Daddy; and Cuban loves to spar with me, but we're friends of course. Barb is also zany and fun!"
Social Sharks
It is safe to say the Lori Greiner Reddit AMA was a big hit. She promised to mention it to the other sharks, so maybe we will see more of these in the future. Part of the success of the Shark Tank is the accessibility of both the Sharks and the entrepreneurs to the general public. While the show is successful in its own right, Shark Tank is ultimately about products and businesses that need to be sold. Unlike a "traditional" TV show, engagement with the audience (potential customers) is valued and a necessary part of the show's marketing. Sharks like Lori who take social engagement to the next level, like she did with her Lori Greiner Reddit AMA session, can only create more demand and success for the Shark Tank and the businesses it spawns.
On a parting note, Lori got in a final plug/prediction for episode 404. She said, "Starting this Friday night, I partner with another one of the Sharks on a really big deal."
Thank you to Lori Greiner Reddit, and the many fans who participated. We can't wait!