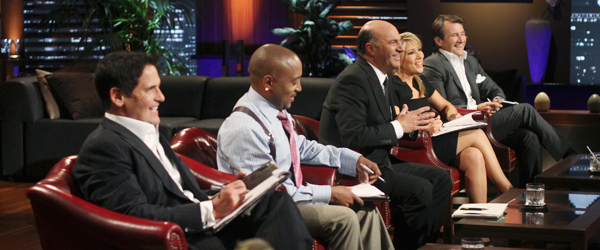 Episode 405 features four compelling pitches and entrepreneurs. Daymond and Lori get in a Shark fight and a bidding war for Cozy Bug Pillowcase Dresses. Roger Sullivan makes a cooking faux pas when he serves the Sharks "waffle crouton" versions of his Wired Waffles. Father and son team Keith and Brandon Marz get hot under the collar while pitching Marz Sprays as Lori gets into a bidding war with Kevin O'Leary. Cheryl Rigdon charms the Sharks and the viewing audience with her spatula for make up called The Spatty.
Success stories are shown every week, and Shark Tank Episode 405 showcases  brothers Stuart & David Pikoff, creators of the Games2U mobile video game party franchise. The brothers declined an offer in season 2, but went on to international success.
ABC announced some changes over the course of season 4. Shark Tank  moved to 9 PM eastern time, beginning with episode 410. This will give people a bit more time to settle in to watch their favorite venture capital game show and give ABC some exposure for new sitcoms. Shark Tank initially scheduled 22 episodes for season four, ABC bought 4 additional episodes over the course of the season, bringing the total to 26. The Shark Tank/ABC website is still looking for entrepreneurs, so if you would like to appear on the show, check out our Auditions and Casting information.
Episode 405– The Shark Investors and Entrepreneurs
The Shark Tank Episode 405 entrepreneurs will make their best pitch to the panel of five Shark investors who will use their own money if they choose to invest. The Shark Investors negotiate on the spot without any previous information, which differs from typical negotiations between venture capital investors and entrepreneurial start-ups.
Companies pitching the Shark Investors must go through a rigorous due diligence process before an on-air deal is completed. Shark Tank Blog follow ups help you keep track of the companies that end up successful and the ones that don't complete their deal.
Thank you for reading SharkTankBlog, the number one site for Entrepreneurs, Investors and Fans. Our content updates multiple times day, giving you the latest information on Episode 405, Season 4, and all other seasons and episodes.