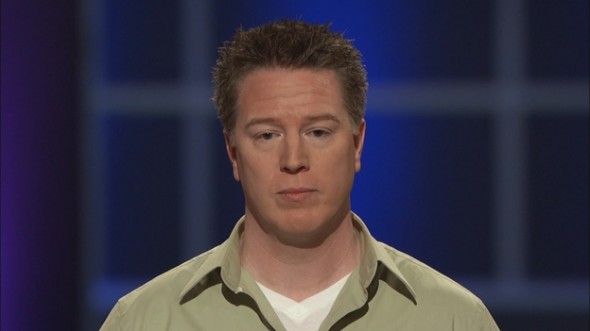 Wired Waffles entrepreneur Roger Sullivan introduces the Sharks to his caffeine infused waffles in episode 405. Sullivan is a lifelong entrepreneur who owned a coffee shop and managed a coffee shop merchandising business with his wife. They wanted to offer independent coffee shops a breakfast alternative and they invented Wired Waffles. By perfecting a method of infusing caffeine into their waffle mix, they were able to offer their waffles as "breakfast with a kick" to businesses and consumers alike. Each pack of waffles has the equivalent of two cups of coffee and are billed as "Energy waffles." Wired Waffles also sells caffeine infused syrups.
Wired Waffles Shark Tank Recap
Roger came into the Shark Tank seeking $75k for a 25% share of his business. He's only been selling them for about a month when he tapes and has made about $1,000. He claims to have a $100,000 purchase order in the works. Lori raises concerns about kids eating the waffles and she goes out.  Daymond doesn't like the idea of an energy shot as a meal; he's out.  Robert likes the idea of an energy shot as a food, he just thinks waffles are the wrong food; he's out. Mark likes the idea, but not the waffles; he's out too. Mr. Wonderful doesn't like the taste and he goes out too. Roger leaves the Tank without a deal.
Wired Waffles Shark Tank Update
Roger Sullivan NEVER had people tell him his waffles didn't taste good. After appearing on Shark Tank, he revealed he served the Sharks waffles that were cooked, then left sitting out under the studio lights for 20-30 minutes. They got dried out and tasted like "waffle croutons." He cautions future food entrepreneurs to serve only fresh product to the Sharks!
In the aftermath of the show, Roger got some venture funding from a private party. He also unveiled Wired Waffles 3.0 which stay moist longer. As a result of his Shark Tank appearance, he set meetings with many food brokers to increase retail distribution.
Roger shuttered the business in 2015 and went on to start distilling Eve's Apple Pie Washington Moonshine, which is still on liquor store shelves in 2021. As of March, 2023, Roger has closed that business and is an underwriter at Symmetry Financial Group.
Posts About Wired Waffles on Shark Tank Blog
Roger Sullivan of Wired Waffles Speaks Out
Company Information